Bigg Boss 11: Zubair Khan says Salman Khan had pressure from the underworld that is why he said what he said

The Indian Express
10-10-2017
© express web desk Evicted Bigg Boss 11 contestant Zubair Khan says Salman Khan's movies are funded by the underworld. Bigg Boss 11 is already getting as bizarre as it could. Ugly spats, contestants washing their dirty linen in public, foul language and almost everyone breaking the rules of Bigg Boss house. And if all of this wasn't enough, there was Salman Khan and his Weekend Ka Vaar where he grilled the defaulters of week one. Among those who came under Salman's scanner included Zubair Khan who is a film producer by profession. From calling him names to warning him to stay in his limits, Salman said it all to Zubair which was not being told to him by any of his fellow contestants. Rather Zubair was being supported in the house by many.
But what followed next was something no one expected, not even Salman. Zubair allegedly tried to commit suicide and had to be taken to the hospital. On the same evening, as the results of first week's voting came out, Zubair was voted out from the reality show. However, Zubair took offence in Salman's grilling session and filed a complaint against the Bhaijaan of Bollywood where he mentioned that Salman threatened him that he would not be able to work in the industry anymore and made statements like "I will make you my dog. Will see you after you leave the home." The story doesn't end here.
On Monday, in a Facebook video, Zubair Khan revealed that he was not eliminated from the Bigg Boss house. Zubair also said that Salman has proved that he is afraid of underworld dons and terrorists.
Clarifying the allegations of him misusing the name of Dawood's family, Zubair says, "My phone was with the team of Colors and I had no idea what promo the channel was showing of me. I had no access to the TV as well. Colors used my name for TRP."
Recommended: all you want to know about Bigg Boss 11
Talking about Arshi Khan whom he abused and called names, he said, "Arshi Khan disobeyed Quran and even misbehaved with Sshivani Durga. She had spit in the food of other contestants. Vikas Gupta is gay and he was made fun of in the house. I only used abusive language for which I feel ashamed. But I took a stand against a 'gandi aurat'. The channel Colors has defamed me."
Watch| Zubair Khan reveals a lot about Bigg Boss 11 and Salman Khan
Lashing out at Salman yet again, Zubair said, "Salman had pressure from the underworld that is why he said what he said on the Weekend Ka Vaar episode. He even has photos with people from the underworld. We know where his movies get money from."
Zubair claimed he never entered the show for fame and it was Bigg Boss who approached him to participate and he never called them. It was the makers of the show who asked for a video from me. He said those who think Zubair Khan is wrong, they can continue to think so. "Colors made me sign a two years contract according to which I would have got money even after I returned from the show," added Zubair.
Here's the copy of complaint Zubair filed against Salman Khan
Continuing, the ex-contestant said, "I attempted suicide inside the house still the team didn't take me to a government hospital. Rather they took me to the private hospital. Police didn't register my statement and the makers of the show came to me that Salman is calling you back on the sets. I said Salman should apologise."
Well, this is not the first time that Salman has invited trouble for himself while hosting the most controversial TV show Bigg Boss. In season 10, a case was filed against the actor, the self-acclaimed godman, Swami Om and CEO of Colors TV Raj Nayak for promoting obscenity and hurting religious sentiments.
Also watch: Zubair files FIR against Salman
(Video provided by IANS)
More from The Indian Express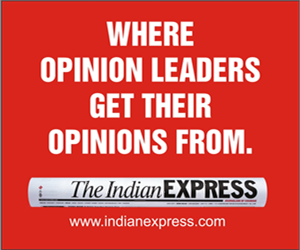 The Indian Express