Kiku Sharda to join hands with Sunil Grover for his new show?

India Today
20-09-2017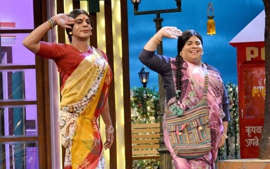 Now that The Kapil Sharma Show (TKSS) is on a break and The Drama Company (TDC) is going off air, Sunil Grover will be coming up with his new show soon on Sony TV, which will reportedly air in the time slot of TKSS/The Drama Company.
The Drama Company was shifted to 9pm slot after TKSS went off air few weeks back, owing to Kapil's health. But now that TDC too is shutting, Sunil's show will take the prime slot of 9pm.
According to reports, Ali Asgar, Sungandha Mishra and some other team members of TDC will be seen on the show. But what has come as a surprise is that Kapil's friend Kiku Sharda, who has stood by him though thick and thin, will make an appearance on Sunil's show, reportedly. In fact, the two have already started shooting.
While 'Gutthi' and 'Palak' will reunite on the show, we are sure Kapil will be heartbroken with the news.
Sunil's new show will most likely premiere on October 1. Meanwhile, Shilpa Shetty's Super Dance Chapter 2 is all set to premiere on September 30 (8pm-9pm).
Watch: Have Kapil and Ginni parted ways?
(Video provided by The Times Of India)