Vikas Gupta suffers snakebite on Khatron Ke Khiladi, Shilpa Shinde reacts with a big laugh

Hindustan Times
09-08-2018
You can take contestants out of Bigg Boss but you cannot take Bigg Boss out of contestants. It's been more than half a year since Bigg Boss 11 ended but a few ex-contestants are still not ready to let go of all the gossipy, mean-spirited behaviour they indulged in inside the house.
One would think Shilpa Shinde and Vikas Gupta would have quit fighting and bickering outside the Bigg Boss house but no such luck. It was recently reported that Vikas Gupta suffered a nasty snake bite on the sets of Khatron Ke Khiladi 9 in Argentina. According to a Times of India report, his co-contestant one the show, Bharti Singh, was attacked by a dragon snake while performing a stunt. Vikas rushed to her aid but got bitten by a snake himself. In a live chat on Twitter, he told his fans that he is recovering from his injuries.
However, when Vikas' former Bigg Boss co-contestant Shilpa was asked to speak about his injuries at a recent event, she reacted with a big laugh and a song. "Kuch toh log kahenge, logon ka kaam hai kehna. Choro bekar ki baaton mein...," she began singing but was interrupted by another Bigg Boss contestant, Puneet Sharma, who completed their song, "Kahin marr na jaaye anaconda!" Upon hearing of Vikas' injuries, Puneet also said "Kya woh saamp theek hai?"
Shilpa was attending the launch event for Puneet and Bandagi Kalra's music video, Love Me, when she was asked about Vikas. The two had quite a topsy-turvy relationship throughout the season on Bigg Boss. Shilpa was declared the winner while Vikas was the third runner-up.
In pics: Biggest cry babies of Bigg Boss!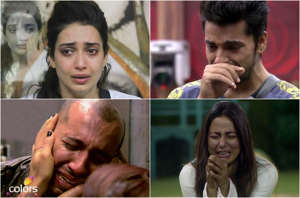 Also watch: Shilpa Shinde makes fun of Vikas Gupta
(Video by Dailymotion)