How many of your favourites are REALLY in that chocolate tin? Experts lift the lid on the exact numbers of each sweet in the top four Christmas tubs as Quality Street is named the worst for matching popular demand

Daily Mail
09-12-2018
Rummaging around in the tub of chocolates for our favourite has become a tradition at Christmas – as is the row over who's pinched all the good ones.
But it looks as though it may actually be the confectionery firms who are to blame, after they were accused of offering fewer of the chocolates we love and lots of those we love to hate.
Although makers say they tailor the mix of chocolates to suit customers' tastes, researchers for consumer experts Which? say the four Christmas tubs they examined – Nestle's Quality Street, Mars' Celebrations and Cadbury's Heroes and Roses – did not match popular demand.
Looking at Quality Street, some 26 per cent of people in the Which? survey named the nut and caramel purple one on their list of three favourites. If this was reflected in the contents, this would mean 11 to go round, yet there was only five.
However, just 12 per cent listed the strawberry delight as their favourite, which should equate to no more than five per tub – yet there was double the number, meaning they are most likely to be left among the wrappers.
Delving into Heroes, researchers found there were very few fans of the eclair, yet there was an average of 12 per box. By contrast there were only nine of the popular Wispas and just six of the Twirls.
Which? said the favourite in a Cadbury's Roses tub is the hazel in caramel, which, in an ideal world, would equate to 11 in the tub. However, the actual number left a sour taste – just five.

Celebrations tubs include miniature versions of popular chocolate bars, with the Milky Way not well-liked. But there was eight in the tub – only two fewer than the much more favoured Malteser Teaser.
Which? magazine editor Harry Rose said: 'Our analysis shows that it's not your family's fault that your favourite flavours disappear from the tub so quickly: there really are too few purple ones to meet popular demand. 
'Of course, if you're a fan of strawberry delights, eclairs or milky ways, this will be welcome news as you're more likely to still be eating chocolates into the New Year.'
All the confectionery firms said they tried to take consumer preferences into account when producing a mix.
A Nestle spokesman added that its Quality Street assortment was made up of three different types of sweet – fruit cremes, chocolates, and toffees and fudge. 
Each tub is broadly split into thirds along these lines, which is why you will get more sweets such as the strawberry delight, which is one of only two fruit cremes, and fewer of the purple one or green triangle, which are just two of the five in the chocolate-based category.
Gallery: 19 useful tips to make your Christmas tree extra special this year (Photo Services)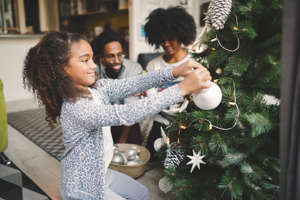 Watch: How to Make Triple Chocolate Coffee Cake (My Recipes)
Disclaimer: Views expressed in this article are the author's own and MSN does not endorse them in any way. Neither can MSN independently verify any claims made in the article. You should consult your physician before starting any weight loss or health management programme to determine if it is right for your needs.