Quiz: Can You Guess These Fast Food Slogans?

Eat This, Not That!
5 days ago
By The Editors of Eat This, Not That!
Can you name the fast-food brand behind all 25 slogans?
Forty-three. That's the percentage of calories you'll eat this year that come from fast food, chain restaurants, and your local diners. Even though you spend nearly half of your food calories on dishes you order off a paper menu, how well do you know the companies who are serving you? Test your knowledge to find out how many of these famous slogans you remember. And when you're done, see how each of these fast-food purveyors stack up in our exclusive report: The Most Popular Chain Restaurants—Ranked!
1. "The Last Great Hamburger Stand."
2. "Eat Like You Mean It."
3. "Eat Well. Live Fresh."
4. "Deliciously different."
5. "We're all family here."
6. "Make it great."
7. "We don't make it until you order it."
8. "Have It Your Way."
9. "Food with Integrity."
10. "World's Greatest Hamburgers."
11. "Eat Mor Chikin."
12. "Finger Lickin' Good."
13. "Service at the Speed of Sound."
14. "See you tomorrow."
15. "Think Outside the Bun."
16. "We Have the Meats."
17. "In Here, It's Always Friday."
18. "I'm Lovin' It."
19. "That's What I Like."
20. "Eat Fresh."
21. "Something Different."
22. "America's Diner."
23. "Bold at Steak."
24. "License to Grill."
25. "Better Ingredients. Better Pizza."
1. Fatburger
2. Carl's Jr.
3. Baja Fresh
4. Wendy's
5. Olive Garden
6. Pizza Hut
7. Jack in the Box
8. Burger King
9. Chipotle Mexican Grill
10. Fuddruckers
11. Chick-Fil-A
12. KFC
13. Sonic Drive-In
14. Applebee's
15. Taco Bell
16. Arby's
17. T.G.I. Friday's
18. McDonald's
19. Long John Silvers
20. Subway
21. Dairy Queen
22. Denny's
23. Outback Steakhouse
24. Chili's
25. Papa John's
MORE FROM EAT THIS, NOT THAT!
Flatten your belly—in just 30 seconds!
That's all the time it takes to blend up a Zero Belly Smoothie—a unique mix of super nutrients that will flatten your gut, boost your metabolism, heal your digestive system, and turn off your fat genes for good. Buy Zero Belly Smoothies today!
More from Eat This, Not That!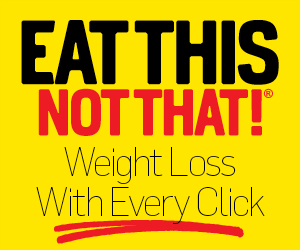 Eat This, Not That!