The Tahini Chocolate Chip Cookies Our Staff Is Obsessed With

Food52
11-09-2018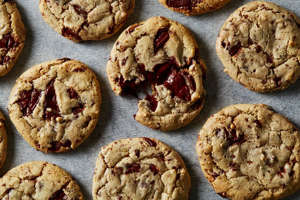 Earlier this summer, I was chatting with Lisa Mendelson—one of the owners of Seed & Mill, a tiny tahini haven in Chelsea Market—when she said something shocking:
"I don't use butter anymore."
We were talking about tahini-obsessed desserts, a category we here at Food52 are verrrrry familiar with: We mix tahini into cake batter. We spread it inside tarts. We use it instead of peanut butter.
But using it instead of butter, like a 1:1 substitution? Does that actually work?
"Yes!" Mendelson told me. "That's how I make chocolate chip cookies."
If you've hung out in our Genius Recipes column before, you may be friendly with Danielle Oron's salted tahini chocolate chip cookies, originally published in Modern Israeli Cooking.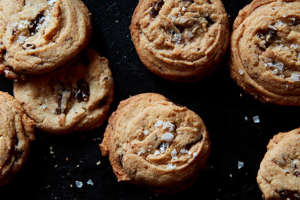 Danielle Oron's Salted Tahini Chocolate Chip Cookies by Genius Recipes
Our Genius leader Kristen Miglore describes the recipe as such: "You're still following the exact same process—and nearly the same ingredients—as the steps you grew up reading off the back of the bag of chocolate chips." But, "along with the softened butter and sugar, you'll add a half cup of tahini."
Mendelson's approach skips the butter altogether. Which, between you and me, I was skeptical of (sorry, Lisa!). So I went home and tried it myself. At first, the dough was stiff to scoop and stubborn in the oven, not melting and spreading as much as the Tollhouse chocolate chip cookies of my childhood.
A little water fixed all this: I added a splash to the dough and flattened the cookie scoops with damp fingers.
Like all crispy-chewy cookies, these notice every minute that they're in the oven. Between 8 and 11 minutes, you go from an ultra-gooey center to something slightly cakier and more golden brown. Start by baking a few test cookies to find which one is right for you. If you're like me, you'll like them all, and feel totally conflicted.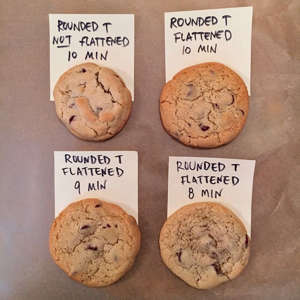 All these recipe tests turned into office snacks, which turned into I-can't-believe-it's-not-butter conversations with my coworkers.
"I ate 1,000," our Senior Editor Eric Kim told me. (I can neither confirm nor deny this.)
"I was taught love and butter are the same thing," Assistant Editor Katie Macdonald said. "But when I took home these for my friends, I ended up eating them all myself while binging Narcos on Netflix. And I'm not even sorry about it."
Now, thanks to Mendelson, we're all the sort of people who say, "I don't use butter anymore." At least when it comes to chocolate chip cookies.
© Provided by Food52

New-Fashioned Chocolate Chip Cookies With All Tahini & No Butter
8 ounces (227 grams) tahini (scant 2 cups)
1 cup (200 grams) sugar
2/3 cup (142 grams) brown sugar
2 large eggs
3 tablespoons cold water
2 teaspoons vanilla extract
1 1/4 teaspoons kosher salt
3/4 teaspoon baking soda
2 cups (256 grams) all-purpose flour
12 ounces (340 grams) bittersweet chocolate chunks (about 2 cups)
more chocolate, please
Related: 25 Cookies From Around the World (POPSUGAR)
Download the Microsoft News app for your Android or iPhone device and get news & live updates on the go. Follow our Lifestyle section in English and Hindi.