5 lessons Katrina Kaif can give you about dealing with an ex

India Today
13-07-2017
Ranbir Kapoor and Katrina Kaif are promoting their upcoming movie Jagga Jasoos in full swing. While the world just can't get enough of their off-screen chemistry (or the lack of it) and Katrina's fashion statements, we couldn't help but notice a very different side of this beautiful actress' personality.
We absolutely love the way she has dealt with Ranbir all this while, no matter how much her co-actor-cum-ex-boyfriend managed to piss her off during their interviews together. In fact, we were so impressed that we literally thought her behaviour was worth learning from.
Here are a few pointers you must keep in mind while dealing with your ex-boyfriend too:
Take it As a Challenge
You know what can be more challenging than coming to terms with the separation, post a long relationship? The answer is simple: Seeing your ex's face every frickin' day. But you know how you can deal with that? By accepting the challenge and turning the odds in your favour just like Katrina.
"Me and Ranbir have a certain dynamic at work which pushes us to compete. By nature everyone has certain things that drive them. For me, when a situation is challenging or complex... That drives me in a certain way," said the actress in an interview with Rajeev Masand.
So get going, girls. Because if you can deal with this, you can even climb the Everest.
(Provided by Dailymotion)
Silence Is The Best Answer

Topped with a few taunts, we mean. The thing about most men is that they just refuse to listen or be patient as the lady speaks. Unfortunately that doesn't change even when they break-up with her. Ranbir, literally cutting her off midway as she answered the questions was proof of that.

But Katrina handled this too like a boss. The actress expressed her annoyance, which was obviously necessary because guys just don't get it otherwise. However, not even once did she lose her cool.
Her occasional eye rolls and silence were enough for the overpowering man to realize his mistake. Not to mention, her one major sarcastic and dignified comeback that was enough to put him back in his place: "Before, he used to come to the sets thinking we are in this together. Now he comes on the sets to teach me and we just need to understand that we are in his great presence," she said
Feeling The Urge To Punch Him In the Face? Laugh it Off
Every time Ranbir managed to piss her off during promotional interviews, Katrina simply went LOL. And that my friends, is a great way to conceal that anger and save both of you the embarrassment of a very public fight. Laugh it off in the public eye and take out your frustration either in the gym or on the culprit later.
And Humour Can Be Your Strongest Weapon
When Ranbir finally admitted to have 'manspalined' Katrina throughout their promotional spree, Katrina had an epic response to that. One that conveyed the point without actually hurting anyone's sentiments.
When questioned about the whole 'mansplaining' controversy, Katrina took a backseat to let Ranbir answer that question. Post that, she commented, "Seems like someone's been punished in school and made to stand up in front of the whole class and say 'Sorry class, we should not do such things!'"
Balanced, witty, and yet hitting the right cord--that's what we thought her reaction was. *Slow claps*
Not Reminiscing Your Past Is a Smart Thing To Do

Katrina did just that when the interviewer tried to get an 'interesting' reaction from the actress.
"Honestly, we are just doing interviews. We are just here to talk about the film. It's all fun and games as long as it doesn't take away from the film because the actual truth is for the last three years, come rain, shine, sickness, health, sadness, happiness - anything pretty much you can think of, we've all shown up on said and held on to this vision. We all believed so much in what Dada (Anurag Basu) is doing… I just hope all these little jokes and all have not taken away from the kind of film one of the best directors of our industry has created and crafted with a great amount of painstaking hard word," she said. Then, she smartly and gracefully changed the topic, sparing herself the horror of talking about her not-so-glorious past or present with Ranbir.
Suggested: Celebs who have stayed friends with their exes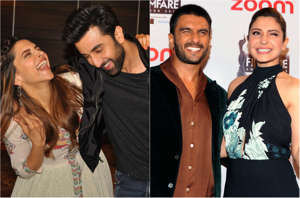 More from India Today

India Today