Over 55s' dream bucket list revealed - from getting tattoos to hitting Route 66

Mirror
28-10-2018
© Getty The top 50 bucket list ambitions of the over 55s have been revealed Driving Route 66, going to gigs and 'getting the kids to move out' have emerged among the top bucket list wishes for over 55s, according to a study.
Researchers found far from planning a pipe and slippers-style retirement, this generation of fifty-somethings are plotting dramatic changes during their golden years.

While 'seeing the world' was top of the pile of ambitions, learning a foreign language and going to more concerts also ranked highly.
Download the Microsoft News app for your Android or iPhone device and get news & live updates on the go. Follow our Lifestyle section in English and Hindi.
The list also offers a peek into the weird and wonderful plans which many over-55s currently harbour.
© Credits: Getty Getting a tattoo, online dating and even learning to swim all made the top 30, as did hiring a personal trainer and learning to play the guitar.
It also emerged more than half of those who took part said they were confident they WILL achieve their goals.
Harold Pritchard, distribution director at Legal & General Home Finance, said: "Retirement isn't what it used to be.
''Rather than taking it easy, many of our customers look forward to having more freedom and taking on new projects and hobbies."
The study also found skydiving, running a marathon and climbing a mountain rank highly on the list of later life goals.
© Credits: Getty Buying a motorbike, getting remarried and even working on building a muscly six-pack stomach also emerged as ambitions.
The study also found 78 per cent of adults in this age group believe having life goals is important.
Gallery: Bucket list! 50 things to do in a lifetime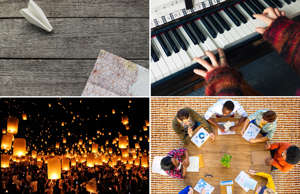 Eighty two per cent said they want something to aim for, and 32 per cent are keen to show that, regardless of their age, they can do anything they want.
Overall 81 per cent of the 2,000 adults over 55 who were polled said they 'felt younger' than their actual age. Only 17 per cent feel their actual age or older.
© Credits: Getty Seven in 10 admitted they had a list of things they would love to tick off before they shuffle off this mortal coil.
Among the things which are preventing Brits from enjoying activities on their bucket lists are financial or time issues, along with a feeling they may now be 'too old'.
About three quarters said they felt it was 'important' to have aims in life.
A feeling that life is better now than it ever has been for the older generation also prevails, according to the study conducted via OnePoll.com , with 85 per cent expressing happiness at their current situation.
More than four in five adults over 55 have paid off their mortgage – and 77 per cent describe themselves as 'financially comfortable'.
Harold Pritchard added: "More than half of the people we spoke to said that money held them back from achieving their life goals.
© Credits: Getty "At Legal & General Home Finance we are helping people access the equity tied up in their homes.
"We know our customers are using their drawdowns for a variety of reasons from 'holidays of a lifetime' to helping the grandkids onto the property ladder, which is great, because we are committed to helping people have the best retirement they can."
TOP 30 LIFE-LONG GOALS
Travel more
Visit Australia
Learn a foreign language
Retire
Drive along Route 66 in America
Move abroad
Downsize my home
Go to more gigs and concerts
Pay off the mortgage
Eat in a Michelin-star restaurant
Volunteer for a charity
Buy a sports car
Take up painting
Learn to play guitar
Learn to swim
Get a personal trainer
Have liposuction or a tummy tuck
Get a degree
Climb a mountain
Get a six-pack
Start dating again
Do a skydive
Run a marathon
Have an affair
Get a tattoo
Buy a motorbike
Get remarried
Get my kids to move out
Get a divorce
Try online dating
Video: Why This Train Ride Through Russia Should Be on Your Bucket List (GOBankingRates)