People reveal the biggest turn-offs when it comes to a date's home

The Independent
16-04-2018
© Provided by Independent Digital News & Media Limited When dating someone new, the final frontier is seeing their home for the first time - as the first impression of your new beau's home can say a lot about where your relationship is heading.
And while an odd sock tossed on the floor or unmade bed is one thing, there are certain home impressions guaranteed to ensure you never return.
In an effort to uncover what home turn-offs will have a date calling an Uber the quickest, and which will lead to another date, home network Porch conducted a survey of almost 1,000 people.
According to the findings, the biggest home turn-on, for both men and women, was smell.

Proving that those scented candles are an important investment if you are serious about dating, the survey found that a house that smells nice will win over a potential mate every time.
The next two biggest turn-ons on the list were a comfortable bed and a bachelor/bachelorette pad - and both men and women agreed again.
© Provided by Independent Digital News & Media Limited While roommates can be a fun and cost-effective option when you are younger, dating as you get older requires a certain amount of privacy - and a comfortable bed is always a plus.
Men also revealed that books, a full fridge, and a dog were major house turn-ons. While women agreed, the survey found that women were also turned-on when men decorated with a doormat or had proof of Obama support.
As for the biggest turn-offs, the results were what you would expect - with a few surprises.
For men, their biggest turn-off would be dating a woman and finding out her roommate was actually her ex - which makes sense when you consider the likelihood of awkward encounters.
And for women, nothing would turn them off more than seeing a pregnancy test in the trash can.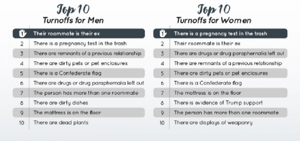 © Provided by Independent Digital News & Media Limited Other turn-offs included Confederate flags, dead plants, drug paraphernalia, remnants of a previous relationship, and dirty dishes - typical red flags in any new relationship.
Interestingly, both men and women revealed that a mattress on the floor would be a major turn-off, so if you don't have a bed frame, now is the time to invest.
The survey also found that men will typically prepare in the likelihood a woman will be coming over after a date - with 30 per cent revealing that they wash their sheets before every single date, compared to just 15 per cent of women.
But for men that don't tidy up before bringing a date over, you may want to reconsider - as 36 per cent of women said they had left a date's home because it was too dirty.
Related: What to Talk About on Your First Date After a Divorce (Provided by Popsugar)