Shopping made easy: Check out coupon codes for great discounts
We often find ourselves searching for a last-minute coupon code, while we are on the transaction page of an online purchase. 

We tell you a better way - Bing before you buy! 
Introducing Offer Hub (beta) for Bing users in India; be it shopping, travel, gifts, entertainment or food, we've got it all covered for you at a glance.
The Offer Hub gets you the coupon codes from popular stores right away. It does the hard work to scour through the best deals on web and show on top, instead of making you go through tens of search results. So before your next purchase online, try going to Bing and search for "offers from popular stores" or "offers in India". You might just end up saving that extra 20% you were looking for!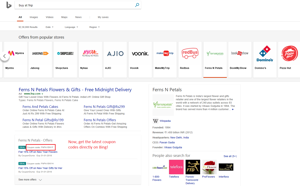 For our mobile users, we've made it even simpler. Offers hub, has a quick launcher right on the Bing homepage: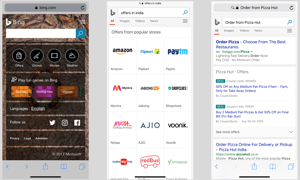 At Bing, we are constantly learning and improving our products to help bring information faster and in a smarter way to our users. Feel free to drop in your comments on this email alias and we will make sure your feedback gets heard.

Happy Shopping this new year!