Did Shraddha Kapoor just wear a dress made out of a quilt?

India Today
18-04-2018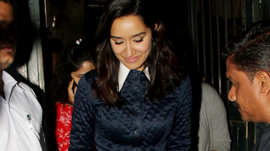 Summer is here, and the woes of striking a balance between comfort and style have come to haunt us again. While celebrities like Anushka Sharma are resorting to easy-breezy Indo-Western outfits to beat the heat, Shraddha Kapoor seems to be failing at it.
Recently, the Haseena Parkar actress was spotted in an ensemble that looked really suffocating. While we have known of Shraddha's on-going tussle with fashion for a long time now, her recent appearance has left us just so baffled.
Also Read: Shraddha Kapoor, it's hurting our eyes to see you like this
Clad in a metallic-blue dress, Shraddha made a blingy appearance, which was rather unpleasant. While we are all praises for the starlet, who made an attempt to pull off the much-in-vogue school-girl look, we believe she could have done it with a better outfit.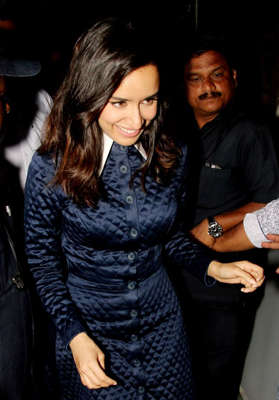 The buttoned, knee-length dress had a lovely white collar, giving it a pleasant contrast against the glossy fabric, but it is the choice of fabric that is to be blamed for the sombre vibe of the outfit.
Also Read: Shraddha Kapoor's recent look is a nightmare you'd never be able to forget
The quilted fabric looked too warm for this weather, while the body-hugging bodice of the dress only made things worse. The buttoned collar, which looked really refreshing otherwise, when paired with the quilting of the dress, lost its charm.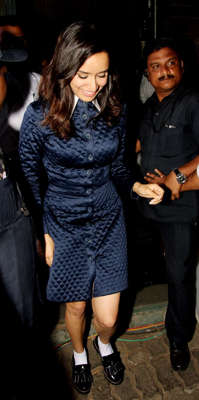 © India Today Shraddha2-647x1467 What's more, the actress further ruined the look by opting for a pair of white socks, which she wore with a pair of glossy, black moccasins. The studded pair of moccasins was as stunning as it gets, but the socks managed to pull it down.
Also Read: Shraddha Kapoor's weird pink outfit will make you want to close your eyes
Sticking to her signature makeup look, Shraddha wore a light-pink lip colour, with her hair pinned neatly on one side, and added yet another look to the list of her fashion mistakes.
Suggested: Off-duty looks of celebs you can totally nail with perfection (Provided by Fashion 101)
More from India Today

India Today