Meghan Markle just gave us 3 back-to-back stunning looks in a single day

India Today
12-07-2018
Meghan Markle's superior sartorial taste is known to all and the Duchess of Sussex proved it, once again, when she pulled off three back-to-back stellar looks on a single day.
© IndiaToday.in Meghan Markle just gave us 3 back-to-back stunning looks in a single day The Duchess of Sussex channelled her Hollywood glamour when she stepped out in a Little Black Dress by Dior to attend the centenary celebration of Royal Air Force.
The dress that had a boatneck fit her like a dream, while accentuating her curves. Meghan teamed her outfit with a pair of peach pumps.

Later in the day, Meghan exuded elegance in a dark green Givenchy dress during her visit to Ireland. She paired the attire with beige pumps.
(Video provided by Instyle)
The Duchess also wore her hair in three different styles on the three occasions. While she tied her popular low bun for her first look, she had a side bun for her next look, and let her hair loose for the garden party.
You are really setting some fashion standards, Meghan.
Suggested: Top fashion moments of Meghan Markle (Provided by Photo Services)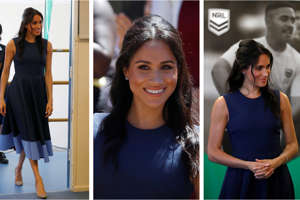 More from India Today

India Today