Ranveer Singh is a die-hard Versace fan. Here is how you can get the look

Hindustan Times
26-03-2019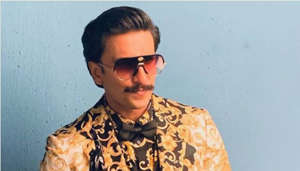 Ranveer Singh is one Bollywood celebrity you can count on to take extravagant risks when it comes to fashion . His funky, bold and over-the-top looks have landed him in the eye of fashion police time and again but he is still on a roll, following his own tune when it comes to style . At the 2019 Filmfare awards, the Padmaavat actor walked the red carpet in a Versace shirt and jacket with bold, golden prints. He completed his look with a black bow-tie and a pair of dark sunglasses. He also adorned a moustache keeping in touch with his movie characters.
Ranveer has been seen in a lot of baroque prints over the last few months. He has charmed us in bold colours, fur jackets, sporty outfits and a lot of Versace outfits during his movie promotions. Hence, we can hail Ranveer Singh as a pioneer of the baroque trend in India.
How to get the look?
The baroque fashion trend has picked up the pace ever since a lot of retail brands like H&M, Asos and Zara have been creating clothes inspired by this trend. Here are some ways you can style this bold trend.
The trend can be worn by men and women both going all out and choosing the boldest prints available in the market. However, if bright prints are not your thing, you can opt for minimal clothing items like scarves or jackets with baroque prints. Accessories like handbags, leggings and even shoes can be used to implement this trend in your look.
A wide range of clothing items are now available for you to implement the "Ranveer look" into your daily outfits. Pick your favourite item and complete your look with a lot confidence and swagger.
You may also like: Lesser known facts about Ranveer Singh, before he became a star (Provided by Mid-Day)