The top five hair extension myths

Cover Media
21-08-2016
© Provided by Cover Media Hair extensions have soared in popularity over the last few years, and they've come a long way from the synthetic, overly-curled, blonde Barbie locks many associate them with. In keeping with that idea we asked Tatiana Karelina, whose brand offers ethically sourced virgin Russian hair, to name the top five myths she thinks are associated with extensions.
In at number one is the idea that they stop natural hair growing, swiftly followed by the claim that extensions can't be worn back to back and that they are painful or uncomfortable. According to Tatiana all three of these concepts are totally wrong, as people will discover when they hit on the right type of weave for their hair type.
"Number one it is important to consider how much weight is placed on your natural hair by the hair extensions," she explained to Cover Media. "For fine hair, the lightest density of hair extensions should be considered. Strand by strand application would be the lightest weight in applying extensions to your hair.
"Micro ring application does not involve any damaging glues or chemicals, the strands are very small pieces of individual hair that are clamped onto the hair with the tiny micro rings. They add volume and highlights without changing the natural structure of your hair, minimising any risk of damage to your hair. It's also important to match the colour and texture of the hair extensions with that of your natural hair."
Tatiana also busts the myth that extensions "limit active lifestyles", which she claims couldn't be further from the truth. This stems from people presuming they are difficult to care for; while it's best to treat them well if you want longevity, you are able to wash them in normal shampoo and conditioner and tie them back or style them as you usually would.
30 insane facts about hair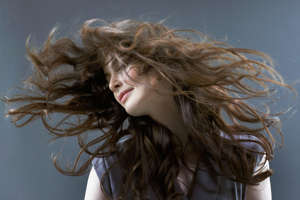 Finally, Tatiana slammed the suggestion that extensions are only used for vanity purposes. In fact, many people use them when their hair thins and they can be invaluable in boosting confidence.
Ready to give some fakery a go? The extensions queen explained what to look for when choosing a salon too. "(You want one with) a well-stocked inventory of hair," she said. "In order to achieve a natural and blended look quite often the optimal colour and texture blend is achieved by combining hair from several different ponytails grades, textures and colours. A big hair inventory shows a significant investment on the part of the salon and a good indicator you are in safe hands."