12 Real-Life Romantic Stories That Top "The Notebook"

Good Housekeeping
14-02-2017
© Rex Images Scene from the movie The Notebook featuring Ryan Gosling and Rachel McAdams For all of the Romeos and Juliets of the world, don't give up on true love just yet. In honor of Valentine's Day, we've rounded up some of the most romantic tearjerkers on the internet. Nicholas Sparks fans, get ready to bawl your eyes out.
1. Here Comes the Bride
After a car accident left her badly injured just weeks before the wedding, bride-to-be Hannah Patterson planned on going down the aisle in a wheelchair. But then-fiancee Stuart Patterson literally took matters into his own hands when he carried his future wife up to the altar. In fact, Stuart was Hannah's rock throughout the entire recovery process. The devoted spouse even slept in a chair next to her hospital bed, holding her hand.
2. A Perfect Match
After hearing about a coworker's cousin in need, a man donated his liver to a complete stranger - and then married her. Former Marine Chris Dempsey decided to get tested even though he'd never seen or heard of Heather Krueger before. It turned out, they were a match in more ways than one. After undergoing the major surgery, the two quickly became more than friends, and tied the knot over a year later.
3. "Only One Woman"
Some people get cold feet at the idea of monogamy, but Dale Partridge revealed his marriage to "one woman" never gets boring. In a viral Facebook post, the author wrote, "Men are so worried that marriage will leave them with "only one woman" ... I fell in love with a 19-year-old rock climber, married a 20-year-old animal lover, started a family with a 24-year-old mother ... You'll actually become overwhelmed with how many beautiful versions of her you get to marry over the years." Aw!
4. Young Love
A shortage of spending money didn't stop Cody Mitschelen from taking his girlfriend out for lunch. The teen went door-to-door mowing lawns to pay for a date. Luckily, Mitschelen's romantic ways caught the attention of the internet, prompting the restaurant to comp their meal. As for his hard-earned cash, the doting boyfriend spent it on the next best thing: a second date getting ice cream.
5. Never Too Late
The saying goes, "don't give up on love," and Maria Teresa Cobar is the living proof. The first-time bride finally found her soulmate at 80 years old. Carlos Victor Suarez, 95, lived across the hall at their nursing home and called their meeting as "love at first sight." Now, the couple spends their days together in the facility's honeymoon suite.
6. Childhood Crush
Don't discount a long-ago fling. After 25 years apart, two summer-camp sweethearts reconnected online in a chance encounter. Evan Leach sent a flirty message to Kim Kuhl, not realizing it was his teenage crush. (She'd changed her name from a previous marriage). Luckily, Kuhl remembered him immediately, and the two hit it off, getting hitched in Paris several years later.
7. The Year-Long Proposal
While Noah wrote Allie letters, Josh Schmitz went the more modern route by recording a message for his hopeful fiancée every day for an entire year. Edited together, it was one epic way to pop the question. As for the answer? It was a resounding yes, of course!
8. In Sickness or Health
When doctors diagnosed Craig Lyons with terminal pancreatic cancer, he had to move up his wedding to fiancee Joan. But the couple didn't let the prognosis get in the way of their commitment to one another. During the reception, the bride shaved her head in solidarity with her ailing husband, and it's safe to say she looked simply beautiful.
9. The Girl Next Door
Sometimes you just know it from the start. When a young Thomas Howard laid eyes on his new neighbor, he decided right then she was the one. "I was only about 9 then and when I first saw Irene I thought, 'what a lovely girl, she's going to be my girl, this one' and my fondness for her grew since then," Thomas said. And he was right - over 80 years together, the childhood sweethearts are still in love.
10. 50 Years in the Making
It only took half a century for World War II vet Captain Paul Rothman and Holocaust escapee Geraldine Rosen to find each other, but fate brought them together. The New York residents lived just blocks apart, knew the same people and worked in the same industry, but took decades to meet. Once they finally did, the coincidences were too strong to ignore. "She's the love of my life," said Paul. "What else is there to say?"
11. Second Time Around
After 23 years of marriage, they decided to call it quits. But another 23 years later, a forgiving couple realized they still loved each other, and decided to tie the knot again. While Roz and Ian Ellis may have drifted apart, they came "full circle" when their amicable divorce took an unexpected turn. "I never thought we'd get married again, but I'm so happy that we did," she said.
12. 'Til Death Do Us Part
Not weepy-eyed yet? A viral picture from Reddit last year will have you reaching for the tissues. A 100-year-old man refused to let go of his dying wife, according the poster, their granddaughter. Side-by-side in hospital beds, the couple held hands until the very end. They celebrated 77 years of marriage before the 96-year-old passed away. If that's not love, we don't know what is.
Also watch

More on MSN
In pics: 24 facts about happy relationships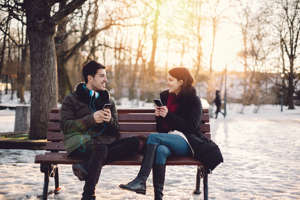 The science of love: 24 facts about happy relationships