Apple iPhone XS Max, XS, and XR 2018 launch: Expected price in India

The Financial Express
12-09-2018
Apple's 2018 iPhone models are just moments away from seeing the light of the day as Apple will kick off a blitz of products, that is also expected to include new iPad Pro models, new Apple Watch models, an entry-level MacBook model, and an improved Mac mini. The event is scheduled to begin at 10 am PT (10:30 pm IST). Ahead of the official unveiling, several reports have poured in a lot of information on what the three iPhone models will look like, what internals will they pack, and more importantly what they will cost. Many renowned analysts have shed some light on how pricey the top-end iPhone model (iPhone XS Max) will be.
In Pics: Forgotten Apple products
According to Above Avalon's Neil Cybart, the iPhone XS Max with 6.5-inch OLED display is expected to cost $1,099 — the highest premium Apple will charge to date for an iPhone. The iPhone XS, on the other hand, is expected to cost between $899 and $999, however, the most suited pricing that has found a consensus is $949. The "affordable" and cheapest of the lot will be the iPhone XR, as it is being referred to presently. It is expected to be priced at around $649, according to Goldman Sachs analyst Rod Hall. However, Hall predicts that Apple will charge around $849 for this model to boost its sales.
In India, the iPhone X was launched at Rs 89,000 as the MRP for the base variant. If these predictions are anything to believe, the iPhone XS Max, which will be the high-end iPhone model this year, could cost close to Rs 80,000, exclusive of taxes and duties. With the looming disparity in the mutual exchange price of US Dollar and Indian Rupee, the pricing is further expected to spike. To cut a long story short, the iPhone XS Max could cost around Rs 1,00,000 in India for the base variant.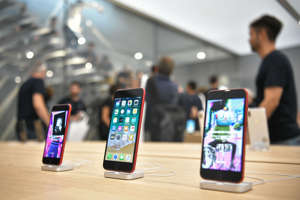 Coming to the iPhone XR, which will be priced between $699 and $749, could be priced strategically at a point that is not too far from the OnePlus 6 and Samsung Galaxy S9. It will be the most affordable iPhone that will be launched this year, which means you may have to miss out on a lot of features that its bigger siblings will positively tout. The first such compromise will be the display - while the iPhone XS and XS Max will pack an OLED display, the iPhone XR is poised to bear an LCD display. 
Download the Microsoft News app for your Android or iPhone device and get news & live updates on the go. Follow our Finance section in English and Hindi.