Sensex rebounds 645 points, Nifty Bank surges over 1,000 points

Livemint
4 days ago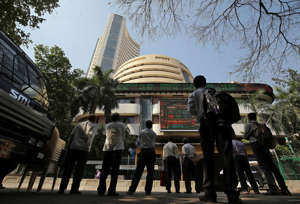 Indian markets rebounded strongly today, with banking stocks leading gains. The Sensex gained 645 points to close at 38,177 while the broader Nifty surged 1.7% to 11,313. The index for banking stocks, Nifty Bank, surged 3.7% while the Nifty auto index also logged 1.4% gain. IndusInd, SBI, ICICI Bank, Kotak Mahindra Bank and HDFC Bank surged between 3.5% and 5.5%.
The Nifty Bank index had fallen 10.5% in the past six sessions.
Some weakness was seen in IT stocks with TCS falling 1.5% and HCL Tech declining 2%.
Financial results from TCS are expected on Thursday, marking the start of the quarterly results season. Company earnings for the year ending March 2020 are expected to receive a boost after the government slashed corporate taxes last month to 22% from 30%.
Yes Bank's shares, which have been volatile over the past few weeks amid stake sales by the lender's promoters and concerns over its exposure to troubled real estate firms, today fell 5%.
Titan dived 2% after the watch and jewellery maker flagged lean sales.
Indian markets had closed lower for the sixth straight session on Monday.