Share market highlights: Sensex ends 396 points down, Nifty below 11,600; VEDL, M&M top gainers

The Financial Express
26-09-2019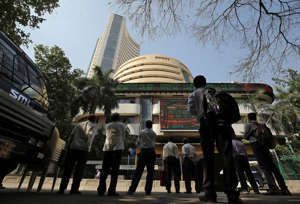 The headline indices Sensex and Nifty closed higher on Thursday with banks and auto stocks leading gains.
The Sensex closed 396 points up to 38,990, while the Nifty ended below the 11,600-mark. VEDL, M&M, Tata Steel were among the biggest gainers, jumping up to 6.5%. Yes Bank, Infosys, HCL Tech were among the biggest losers, shedding up to 5%.
Asian stocks rose on Thursday as hopes the United States and China may soon end their year-long trade war boosted demand for riskier assets while worries about a US presidential impeachment bid ebbed.
MSCI's broadest index of Asia-Pacific shares outside Japan was up 0.13 per cent. Japan's Nikkei rose 0.40 per cent. Chinese blue-chip shares advanced 0.20 per cent, Reuters reported.