Watch: Stampede-Like Situation On Public Opening Of IKEA Hyderabad

NDTV
10-08-2018
(Video provided by Business Today)
Hyderabad: The much-awaited Swedish home furnishing brand IKEA opened its doors in Hyderabad on Thursday. The store, spread over 4 lakh square feet with a grand cafeteria that can seat 1,000 people and a range of over 7,000 products spread into two floors, seemed to live up to the hype. There was a large crowd that impatiently waited to take a sneak peek of the store, leading to a stampede-like situation.
Watch the video of the heavy rush here:
#WATCH Stampede like situation at public opening of Swedish home furnishing brand #IKEA in Hyderabad, yesterday. pic.twitter.com/Ta5izho02E

- ANI (@ANI) August 10, 2018
Around 40,000 people visited IKEA's Hyderabad store on its opening day.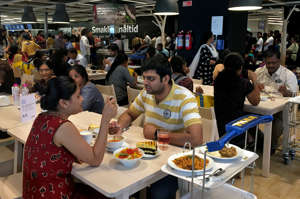 "This is worse than getting into the line for a darshan of Lord Balaji at Tirumala on auspicious days," Vidya told NDTV, as she battled the pushing crowds awaiting her turn to enter the store.
"With a huge crowd from across the city thronging the store in the evening, the IKEA staff found it a bit challenging to regulate the entry. There were also a few tense moments when some people tried breaking queues," store manager John Achillea said.
In Pics: Businesses that are booming under the Trump
(Slideshow by Love Money)
IKEA is bringing to India a foreign direct investment of Rs 10,500 crore. It has taken IKEA 12 years to open the first of the 25 stores it plans here.
Peter Betzel, CEO of IKEA India, said he is overjoyed with the response. "We have visited some 1,000 homes to understand how Indians live, what they eat, what they would like, so we can tailor-make our products to suit Indian taste and need.''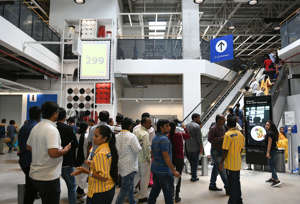 IKEA has so far employed 950 people, 90 per cent of them locals and nearly 50 per cent women.
Hyderabad will have the exclusive edge in India at least till August next year when IKEA will open in Mumbai, followed by Bengaluru and Gurgaon.
(With Inputs From ANI, IANS)