Wholesale Inflation Eases To 4.53% In August

NDTV Profit
14-09-2018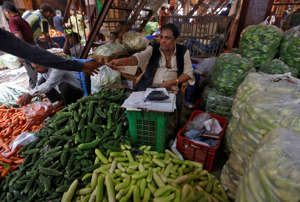 Wholesale inflation stood at 4.53 per cent in August, government data showed on Friday. That marked some relief in the rate of price increase from a four-year high of 5.09 per cent registered in the previous month. Wholesale or headline inflation, however, quickened on an annual basis, from 3.24 per cent in August 2017. Headline inflation, determined by Wholesale Price Index (WPI), in primary articles eased to 0.1 per cent from 1.73 per cent in the previous month.
Inflation in manufactured products, which includes items such as food/beverages, tobacco, chemicals and pharma, and has the maximum weightage of over 64 per cent on the WPI index, stood at 0.3 per cent, the Ministry of Statistics said in its press release.
In Pics: Popular brands which will raise prices
Food inflation, which consists of food articles from the primary articles group and food products from the manufactured products group, slowed down to -2.25 per cent in August from -0.86 per cent in the previous month. 
Separate data earlier this week showed that retail inflation - determined by Consumer Price Index (CPI) - eased to 3.69 per cent in August, below the Reserve Bank of India's medium-term target of 4 per cent.
Download the Microsoft News app for your Android or iPhone device and get news & live updates on the go. Follow our Finance section in English and Hindi.