10 reasons to fall in love with Windows 10
Meet the Best Windows yet. Windows 10 is designed to go with you seamlessly from one device to another. It's fast and responsive. With Windows 10, it's easier than ever to do great things. Windows 10 combines the Windows you already know and adds great improvements you'll love. Technologies like InstantGo let you boot up and resume quickly. And Windows 10 has more built-in security features than ever to help protect against malicious software.
1. MULTI-DOING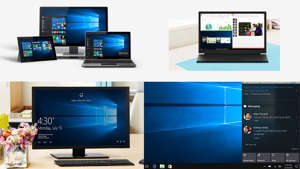 Multi-task like a master with the ability to snap four things on the screen at once. Screen getting crowded? Create virtual desktops to get more space and work with just the items you want. Plus, all your notifications and key settings are collected on one easy-to-reach screen.
2. MICROSOFT EDGE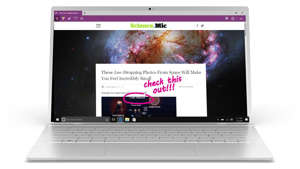 Microsoft Edge is the browser built for Windows 10. Go beyond browsing—enjoy a web experience that's personal, responsive and all about getting things done online. It's the all-new browser designed to make the web work the way you do. Write or type directly on webpages and share your mark-ups with others. You'll like the reading view that clears away distractions. There's also an improved address bar to help you find things faster.
3. CONTINUUM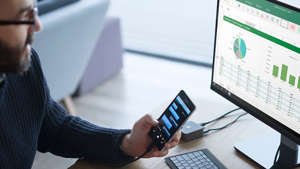 The best screen is always the one you're on, because Windows 10 optimizes your experience for your activity and device. Onscreen features adapt for easy navigation and apps scale smoothly from the smallest to the largest displays.
4. UNIQUELY YOURS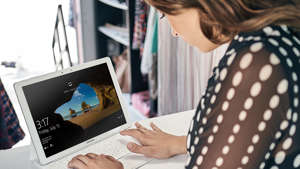 Your Windows 10 device recognizes you and acknowledges your presence in truly personal ways. With Windows Hello, your device greets you by name and lights up in recognition, waving you through log-in and freeing you from having to remember or type in a password. Windows Hello logs you into your Windows devices in less than 2 seconds, 3x faster than a password. Use your camera to recognize your face or try your fingerprint reader – either way Windows Hello recognizes you instantly. You can always keep your PIN as a backup. Enable Windows Hello to switch on sign-in with your face or fingerprint. Login to your laptop, tablet, device, app or even websites faster and more securely. You can even make in-app purchases. Windows Hello works with compatible apps like iHeartRADIO and DropBox, so you can bypass the password and breeze right through. Sign-ins are fast and password-free, with an extra measure of security. Windows Hello lets you use your digital wristband, smart watch, phone and other companion devices to unlock your Windows PC quickly, without using a password. By already certifying your identity, these devices give you another choice for quick, secured sign-ins.
5. MOST COMPREHENSIVE SECURITY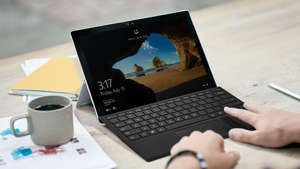 As the most secure Windows yet, Windows 10 delivers comprehensive protection – including anti-virus, firewall, Windows Defender and anti-phishing technologies – all delivered built-in at no extra cost to you.
Windows Defender is your anti-virus security solution that delivers comprehensive and real-time protection against software threats across email, cloud and web.
Windows Firewall is network protection, designed to prevent hackers and malicious software from gaining access to your PC
SmartScreen Filter is online protection built into Windows, Microsoft Edge and Internet Explorer browsers to help keep you protected from malicious websites and downloads
Parental controls help keep your kids safe across all of your family's devices, including Xbox, Windows 10 PCs, tablets and mobile devices
Windows uses built-in encryption to protect your device by scrambling your data to help keep it secure. If your device is lost or stolen, your data stays safer from unauthorised access.
As the most secure Windows built yet, Windows 10 provides and includes a full suite of built-in security features. You're covered by security updates that are always enabled, from your very first boot up through the supported lifetime of your device.
6. GAMING & XBOX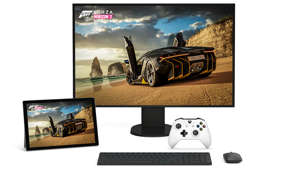 The best Windows ever for gaming. Play great new Xbox games on Windows 10 in native 4K resolution. Stay connected to your gaming community with the Xbox app. And play where you want with in-home streaming and Xbox Play Anywhere. Use the Game DVR feature to record your greatest hero moves and send to your friends instantly, without leaving your game. 
7. CORTANA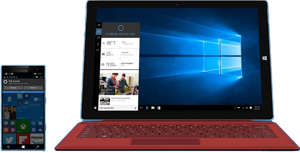 Cortana is your truly personal digital assistant who works across all your Windows 10 devices to help you get things done. By learning more about you over time, Cortana becomes more useful every day, staying transparent and keeping your trust. Count on Cortana to help you find things, complete tasks, set reminders and work across your devices more productively.
8. WINDOWS INK 

The quickest way to set ideas in motion. Quickly access the Windows Ink Workspace to use Sticky Notes, Sketchpad and Screen Sketch. Naturally create, capture and edit ideas at the speed of thought within Office. Windows Ink lets you quickly access the Windows Ink Workspace with just a click of your digital pen – even directly from the lock screen.
Intelligent Sticky Notes: Never lose a thought or forget a detail. Write a flight number and up comes the flight status, or jot down an address and Maps will find the best route. Even write a phone number and then just tap it to make the call.
Sketchpad: Capture details and ideas as they happen. Naturally use two hands to adjust the thickness of a line, or bring up a digital ruler to trace along its straight edge, just like on paper.
Screen Sketch: Easily capture what's on your screen and mark it up with your digital pen. Whether it's a document, web page, photo or app, take a screenshot of your desktop, ink it up and share it with one click.
Smart editing in Word: Windows Ink works great with Word to make editing documents better than ever: Strike through words to make them disappear, circle text to select it, highlight with precision or transform drawings into shapes with just one touch.
Windows Ink and OneNote: Enhance learning and problem solving by using Windows Ink and OneNote together. Write a maths problem on your touchscreen PC and OneNote and Windows 10 solves it. Get to the answer quickly, or see step-by-step instructions to help you learn how OneNote got the solution.
9. BEST APPS BUILT FOR DOING: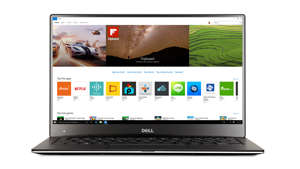 Get your favourites fast in the Windows Store, the one-stop shop on your PC, tablet, phone and Xbox One. Easily find and acquire popular free and paid apps, desktop software, PC and Xbox games, films, TV programmes and the latest music.
10. OTHER FUN FEATURES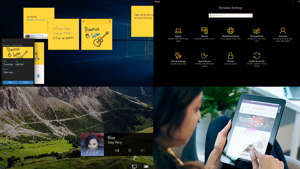 Sticky Notes with Cortana: Sticky Notes enables you to capture and save a brilliant thought or jot down an important detail. Now integrated with Cortana, Sticky Notes lets you set reminders that flow across your device
Dark mode: Instantly change your apps from light to dark mode – great for low-light conditions like working at night or on a plane.
Music controls in lock screen: If you have music playing when you lock your device, you can now control playback right from your lock screen. Keep listening without missing a beat.
Emoji Keyboard: The new emoji keyboard features a new font and categories of expressive and playful emoji, with more fidelity and skin tone options. Available for 25 languages.
One place for taking action: Action Centre gives you quick access to the things you need – like notifications from email, apps, Cortana and Defender – all in a single, easily accessible spot on the right side of your taskbar.
Use your laptop like a tablet: Tablet Mode delivers a smooth, touch-first experience on your tablet, 2-in-1 or touchscreen laptop. Apps scale smoothly and onscreen features adapt for easy navigation