10 Smart Home Gadgets You Need In Your House

Know Your Mobile
04-11-2016
© knowyourmobile.com 10 Smart Home Gadgets You Need In Your House The Internet of Things (IOT) has been quietly developing in the background during the past several years. Microsoft, Apple, Google and Amazon are all heavily invested in the segment which covers everything from household gadgets to cars and infrastructure.

The IOT is a huge potential market. This is why all of tech's biggest luminaries are investing billions of dollars developing platforms, technologies, and products that are designed to make your home and the towns and cities in which we live smarter.
Driverless cars and self-healing motorways are a ways off at present. But closer to home there's a bunch of cool products you can buy already. Products that range in price and applications, but products any self-respecting technology geek cannot be without.
These gizmos will make your home smarter, provide hours of fun, help you save money on your energy bills and much more besides. It's difficult to whittle things down to just 10 gizmos, but after a lot of procrastination and arguments we finally managed to nail down 10 must-have smart home devices.
Enjoy! 
SONOS PLAY:1 Smart Wireless Speaker
© Provided by Dennis Publishing Limited The SONOS Play: 1 is just about the best purchase I made in 2015. I use it every day, love the way it looks and am always impressed by the sound quality it produces. The SONOS app is cross-platform as well, meaning you can run it on most phones as well as your PC.
The beauty of the SONOS system, however, is that you can build it up over time – you start with one, as I did, and then add in more speakers. Over time, this means you can fill your home with speakers, create separate networks, say, one for your living room and one for the master bedroom.
Nest Learning Thermostat
© Provided by Dennis Publishing Limited Nest is a smart thermostat as the name suggests. It learns your habits, how you like the temperature and builds a profile for you which it uses to manage your home's central heating.
The idea with Nest is simple: it's smart and it learns, over time this helps you to use less energy and save money on bills. Everything can be managed from the Nest app on your phone.
A must have for the energy conscious.
Smarter iKettle 2.0 Wifi Kettle
© Provided by Dennis Publishing Limited Like drinking copious amounts of tea? Course you do. Fancy being able to control your kettle from your phone?
Get the Smarter iKettle 2.0 Wifi Kettle, which features the following cool features:
- Remote boil your iKettle from anywhere in the home.
- Water Level sensor shows you exactly how much water is in the iKettle on the App
- Make night feeds easier, remotely boil and be notified once the water reaches your desired temperature
- Select any temperature between 20-100c to get the best taste from your chosen tea
- Wake Up mode and home mode allow you to schedule your kettle at a time to suit you.
Amazon Echo

© Provided by Dennis Publishing Limited Amazon Echo is essentially a digital butler for your home. It can play music, read you poetry and answer any questions you might have about anything. Amazon's AI – Alexa – is the smartest digital assistant on the planet right now, besting both Google and Apple's attempts.
Open to third-party developers, Echo is developing all the time. If you're after something like this Amazon Echo is the only one you should consider. It is leagues ahead of the competition.
- Plays all your music from Prime Music, Spotify, TuneIn and more using just your voice
- Fills the room with immersive, 360º omni-directional audio
- Allows hands-free convenience with voice control
- Hears you from across the room with far-field voice recognition, even in noisy environments or while playing music
- Answers questions, reads audiobooks, reports news, traffic and weather, provides sports scores and schedules, and more using the Alexa Voice Service
- Controls lights, switches, thermostats and more with compatible connected devices from WeMo, Philips Hue, Hive, Netatmo, tado° and others
- Always getting smarter - Alexa updates through the cloud automatically and is continually learning, adding new features and skills
Samsung Smart Home Camera: Full HD 1080P Outdoor/Indoor Camera

© Provided by Dennis Publishing Limited If you're serious about security or capturing paranormal activity in and around your home then you need to get yourself a security camera.
And one of the best in the business is Samsung's Smart Home Camera which packs in the following features:
- Modular Type Design (Outdoor Ready)
- Full HD Resolution
- Single Band Wi-Fi (2.4GHz)
- Night Vision up to 50ft
- Motion Detection
Samsung SmartThings

© Provided by Dennis Publishing Limited Samsung SmartThings is Samsung's platform for smart home technology. It is a network of connected products that can be managed via an application aboard your Samsung phone and/or tablet.
And best of all? SmartThings works with Amazon Alexa…
- SmartThings is the easy way to turn your home into a smart home
- SmartThings works with a wide range of connected devices including lights, speakers, locks, thermostats, sensors and others
- Add smartness to your home with the SmartThings starter kit
- Contains a SmartThings hub, a multi-sensor, a motion sensor, a presence sensor and a power outlet
Drop Kitchen Scale

© Provided by Dennis Publishing Limited Portion control is key for maintaining a healthy weight. So are food choices.
If you don't already have a kitchen scale and are thinking about getting one because you want to eat better and lose some pounds, check out the Drop Kitchen Scale, which is WAY more than just a scale…
- With Drop Smart Kitchen Scale & Recipe App you can scale by ingredient, accurate weighting for perfect results. From 6 kg to under a gram.
- Find the perfect recipe: access hundreds of free interactive recipes as you browse the app for idea and inspiration.
- Super low energy. Battery gives up to a year of normal use.
- Single bowl recipies. Less clean-up afterwards.
- No cables. Connects via Bluetooth Low Energy.
LIFX

© Provided by Dennis Publishing Limited Smart Lightbulbs are a thing. Phillips Hue are the most well known, but LIFX are also very impressive and certainly worth consideration if you're thinking about outfitting your home with smart light bulbs.
The cool thing about these smart lights is that they A) use less energy, B) can be managed remotely from a phone and C) let you change the colour of your home's lights – there's literally millions of colour options.
- Easy Setup, Built-in WiFi, No Hub Required
- 16 Million Colours / 1000 Shades of White
- Adjustable and Dimmable
- App and Cloud Connection
- Control Lights at Home or Away
- Set Timers and Alarms
Chromecast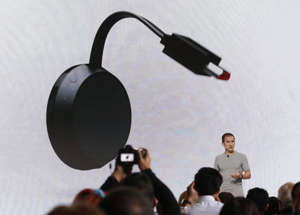 © Reuters Mario Queiroz introduces the Google Chromecast Ultra streaming device during the presentation of new Google hardware in San Francisco, California, U.S. October 4, 2016. Chromecast is awesome. If you don't have one yet, do yourself a favour and pick one up right now. It's cheap, works brilliantly, and has so many applications that it will likely pay for itself a million times over within the first few months of use.
Nest Smoke Detector
© Provided by Dennis Publishing Limited Nest's smoke detector, like its smart thermostat, is a smart, web-connected device.
This is one of the most advanced smoke detectors on the market and, once installed in your home, you can sleep easily knowing Nest is keeping tabs of everything from fires to carbon monoxide levels.
- Detects smoke and Carbon Monoxide
- Voice alarms with custom location - Nest Protect alerts your phone when something's wrong in case you're not home. Phone alerts include: Low-battery, Smoke, Carbon monoxide, Sensor failure
- Split-spectrum Sensor detects fast- and slow-burning fires
- Tells you what's wrong and where the problem is
- App Silence - Nest Protect is the first alarm you can silence from your phone using the Nest App
- 10-year product lifetime - Nest Protect's long‐life sensors keep you safe and sound for up to a decade
- Battery powered: Six long-life AA batteries
ALSO SEE: Success secrets of the super rich