4 things everyone should know about Greece's debt

Investopedia
07-07-2015
FOX Business Network's Jo Ling Kent weighs in on the top 4 things everyone should know about Greece's debt.
1.       THE CRISIS STARTED BREWING YEARS AGO..
....When Greece received a multibillion dollar bailout in 2010. The International Monetary Fund, the European Central Bank and governments of the Eurozone wanted to save Greece from total collapse so they lent it 240 billion euros. That was a band-aid on a gaping wound. Although Greece made it through, the economy never fully recovered. Fast forward to January of 2015 and the Syriza party was elected to power with Prime Minister Alexis Tsipras at the helm. There were promises to lighten the spending cuts and austerity measures, but  things got worse fast. The Greeks and the "troika," as the lenders are called, couldn't come to an agreement on funding a payment Greece already couldn't make by the June 30 deadline. Tsipras wanted an extension so the Greek people could vote on what to do. The ECB and other members of the Troika said no. Thus the default.
2.       THIS CRISIS DIRECTLY IMPACTS EVERY GREEK RESIDENT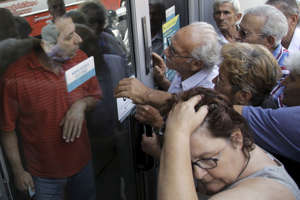 © Reuters
Everyday life has screeched to a halt in Greece. The default has affected every single resident as the government tries to prevent money from flowing out of the embattled country. Banks have been shut down and residents can only withdraw 60 euros from ATM machines, that is when they're operating and if they're not already empty. Citizens cannot transfer money abroad or pay bills using debit cards.  According to the Wall street Journal, Greece's banking system has about 1 billion euros in cash left as of Wednesday. Unless the situation changes, the country will probably run out of cash in just a matter of days.
3.       SO WHAT HAPPENS WHEN THE MONEY IS GONE?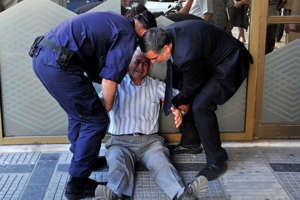 © Getty Images
Unlike personal bankruptcy, Greece won't be forced to auction everything it owns or get taken over by another state. The Greek central bank may eventually have to exit the Euro in what is called a "Grexit" and start printing a new (greatly devalued) currency. But who really knows right now as PM Tsipras hasn't shared a plan B. All eyes are on the July 5 referendum vote.
4.       THE END ISN'T NEAR -- GREECE HAS MORE DEADLINES ON THE HORIZON
Cue the sad trombone: Greece also owes 3.5 billion euros to the European Central bank on July 20. In a nutshell, the future of Greece is still in limbo.