Apple's 5 Embarrassing Design Mistakes

Forbes
10-12-2015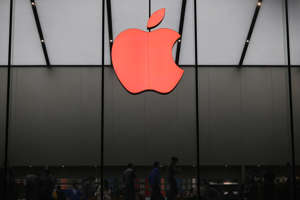 © Getty Images A red Apple logo is seen on the Apple store on December 1, 2015 in Hangzhou, Zhejiang Province of China. Apple knows design, right? Perhaps not. As Adam Tinworth pointed out to me yesterday, the Apple iPhone 6S Smart Battery Case is not the first badly designed peripheral from Apple. Cupertino seems to have a tradition of focusing on its core products and forgetting to put in the same Jobsian level of attention to detail into the peripherals and experiences that surrounds them.

1. The Hockey Puck Mouse
© Provided by Forbes Apple's Latest Product The iMac with Mouse (Photo By Getty Images) Tinworth cited the Hockey Puck Mouse as an example of Apple "[putting] less effort into many of their accessories than they do their main products" and I can't argue with that.
I can see what Apple was attempting to do, because there are echoes of the candy-ball iMac design coming through, from the clear plastic hugged by the colored edges, but in terms of user interaction this was a bit of a disaster. It did not fit comfortably in the hand, there was no haptic sense of orientation to guide the user, and it looked like someone's brainwave of 'a round mouse!' was used without any thought to practically.
You didn't use this mouse, you endured it.
2. iPod Hi-Fi
© Provided by Forbes Tokyo, JAPAN: Apple Computer's Japanese subsidiary employee Masayoshi Suzuki displays the new hi-fi audio system 'iPod Hi-Fi' (YOSHIKAZU TSUNO/AFP/Getty Images) If you have a product that is focused on music (which the iPod was) then there will be times that you want to fill the room with noise. Apple rightly produced a party-fuelling speaker for the iPod, but the iPod Hi-Fi was a short-sighted product, again lacking in subtleties when used by everyone in the real world.
Take the dock for the iPod. It left the iPod perched on top of the unit, easily knocked off the unit, exposed to any falling object, and with the 'party' focus on the hardware that was a huge risk. That's assuming your iPod would fit in the speaker, because the dock was limited to a handful of the then current iPod models.
Or the remote control which had one button that was locked to 'play next track in the playlist'. And for a audiophile-focused product, the lack of extra cabling options, especially video-out, meant that the $349 speaker was dead on arrival.
3. Apple Pencil

© Provided by Forbes SAN FRANCISCO, CA – SEPTEMBER 9: A woman draws on an Apple iPad Pro with an Apple Pencil. (Photo by Stephen Lam/ Getty Images) One of the key selling points of the iPad Pro is the stylus. Apple has designed this to match the look and feel of a pencil as much as possible, but as an electronic device it does need to be charged. This is where it goes wrong.
You can charge it from the iPad Pro itself, and you're not going to struggle to look for another cable. But It's an ugly and utilitarian piece of design. A simple cap covers the lightning connector, and the connector itself is bare circuit board. It keeps the size small but is there any thought about making a beautiful design? No, you just slam the Pencil into the bottom of the iPad Pro and let it hang out like a cocktail stick holding up a sausage. It feels rushed and inelegant.
When Apple talks about the effort it makes in designing products I wonder how much time was spent on charging the pencil?
4. iTunes
© Provided by Forbes LONDON, ENGLAND – OCTOBER 26: Luke Robertson, 28, from Lewes poses as the King of all Cosmos from the Katamari game series (Photo by Dan Kitwood/Getty Images) Lets face it, iTunes is a mess. Originally a third-party application that Apple purchased to support MP3 playback, it has become Cupertino's very own Katamari, rolling over every Apple product and picking up a new interface, an additional option, or a new style of presentation. If you've lived with iTunes since it was SoundJam MP back in 2000 the changes have consisted of a million small steps. You might not have noticed just how much of a train wreck the interface currently is.
Apple really need to take a clean sheet of paper and decide what their core desktop app should be doing, and how to do it in a consistent and logical manner. Because it's not managing to do any of that at the moment.
5. iPhone 6S Smart Battery Cover
© Provided by Forbes Apple iPhone Smart Battery Case (image: Apple.com) And so we come to yesterday's release of the iPhone 6S Smart Battery Cover. There are some nice ideas in here, with the iOS software able to show the battery level in the case, and the case deciding when it needs to charge the handset, but it's let down by a number of errors. Such as having the charging light inside the case and obscured by the phone, the lack of consideration around the headphone socket cut out, and the fact that it offers less capacity for more cost when compared to other battery cases.
But the biggest design flaw is visual The quite frankly ugly bulge on the back of the silicon cover that houses the battery cell. If Apple focused on making a great looking iPhone, it's undoing all that work by asking people to use this case. And that's before you point out that Apple's battery case is a tacit acknowledgement that the iPhone 6S battery is too small for regular daily use.
Apple may be seen as a leading light in designing mobile devices, but look beyond the core products and you find that design is something that Cupertino has always struggled with.