Are banks failing the demonetisation drive?

India Today
14-12-2016
Even after a month of demonetisation drive, the bitter irony continues. With the aam aadmi waiting to withdraw his savings, the new currency notes are being siphoned off illegally.
An estimated over Rs 160 crore have been unearthed by the I-T agencies and the big question remains about the banking network vulnerability post the demonetisation drive.
"It's a matter of investigation. Normally what happens is that cash that is received by us from RBI goes to currency chest and from the currency chest, it is flown to branches. There are absolute records maintained at each branch and it gets registered as 'cash in hand'. Then the record is kept of how much cash is being distributed from different accounts- it's all maintained in the computer system. We are ourselves perplexed", said Rajeev Rishi, Chairman of Central Bank of India to India Today.
According to senior sources in the RBI, each bank branch is allocated at least one crore currency. From here, the banks are accountable to ensure that the money is transferred to the account holders.
---
---
HOW THE LEAKAGES IN THE SYSTEM TAKE PLACE

To understand the leakages in the system, lets take a look at the currency printing and its transfer route.
There are four currency notes printing press in the country- two directly under the RBI at Dewas and Nashik, while the other two operated by its subsidiary Bharatyia Reserve Bank Note Mudran Private limited in Mysuru and Salboni.
The freshly-minted notes are transported from these printing press centres to the RBI regional branches across India. At each point, there is tight security and the currency notes are packed in a sealed box.
ALSO SEE: Interesting facts about the rupee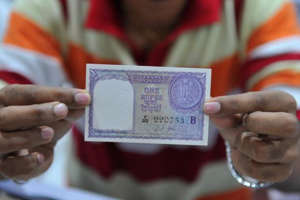 There are 30 RBI regional branches from where these notes are sent to central branches of each bank. It's the last mile where chinks have been found in the system.
In the recent crackdown by the I-T department, errant bank officials have been able to use the system to their advantage through fake accounts and withdrawal to divert the new currency.
"We are talking about 2 million banking employees and banking branches that are immense, and ever since the demonetisation, all the banks and branches (all 99.9 percent working diligently). However, a few bad employees can't be representative of our efforts", said Rajeev Rishi, Chairman, Central Bank of India.
On a day when a senior RBI official was also caught in the net of black money crackdown in Bengaluru, Indian banks have formed their own task force to help in the investigations.
"Our vigilance teams from banks are working in different parts of the country and are going to different branches to oversee that these things don't happen", said Rajeev Rishi.
ALSO ON MSN: Leaders offer laddoos to people in ATM queues