GST rollout in India live updates: Tax reform formally launched by PM Modi, President Mukherjee

The Indian Express
30-06-2017
Goods and Services Tax (GST), the biggest fiscal reform India has seen since Independence, was formally launched by Prime Minister Narendra Modi, and President Mukherjee on Saturday. Speaking at the launch ceremony at the Central Hall in Parliament, President Mukherjee said, "It is remarkable that 18 meetings held so far, all decisions have been taken by consensus in the council. GST is a tribute to the maturity and wisdom of India's democracy," he said.
The President also added that the tax reform will act as a major boost to economic efficiency, tax compliance and domestic and foreign investment. Prime Minister Narendra Modi expressed deep satisfaction at the launch when he said, "GST is a good and simple tax regime that will eliminate the compounding effects of multi-layered tax system: Prime Minister. Meanwhile, former Prime Minister Manmohan Singh skipped the launch event owing to Congress' boycott of the ceremony with the Opposition playing hardball by not being a part of the midnight joint session of Parliament.
MSN SPECIAL: Complete coverage of GST rollout
Here are the GST rollout LIVE updates:
11:59 pm: GST formally launched by PM Modi, President Mukherjee.
11:57 pm: It is remarkable that 18 meetings held so far, all decisions have been taken by consensus in the council: President Pranab Mukherjee.
11:54 pm: GST is a tribute to the maturity and wisdom of India's democracy: President Mukherjee.
11:53 pm: GST will make exports more competitive and provide level playing field to domestic industries, says President Mukherjee.
11:49 pm: Was confident GST is a matter of time, says President Mukherjee.
11:48 pm: This historic moment is culmination of a 14-year-long journey, says President Mukherjee
11:44 pm: GST has potential to end harassment at hands of officers; hope traders will transfer its benefits to consumers: Prime Minister.
11:43 pm: In reality its 'Good and Simple Tax', says PM Modi.
11:42 pm: GST is not only ease of doing business, but a way of doing business, says PM Modi.
11:38 pm: People who want to invest in India, it is easier for them to understand the investment climate, says PM Modi.
11:37 pm: Poor will benefit most from GST, says PM Modi.
11:36 pm: Now there won't be any kaccha and pakka bill, all this will end, says PM Modi
11:34 pm: GST is economic integration of India just like what Sardar Vallabhbhai Patel had done decades back to integrate the country: Modi.
11:33 pm: GST is such a system which is easy, and will seek to stop black money and corruption, says PM Modi.
11:32 pm: GST is a work of Team India, says PM Modi
11:28 pm: From Ganganagar to Itanagar, from Leh to Lakshwadeep, the nation will see one nation, one tax, says PM Modi.
11:26 pm: Prime Minister Narendra Modi says GST is result of combined efforts of all political parties, says PM Modi.
11:25 pm: There couldn't have been a better place than the Central Hall for the GST launch, says PM Modi.
11:23 pm: This historic reform not achievement of any one government or party, says PM Modi.
11:21 pm: India is a shining example of cooperative federalism, says PM Modi.
11:19 pm: We are deciding India's future course, says PM Modi.
11:17 pm: In a short while, India will move towards a new direction, says PM Modi.
11:15 pm: The old India was economically fragmented, the new India will create one tax, one market and for one nation: FM Arun Jaitley
11:14 pm: There will be no unnecessary burden on weaker sections, says Jaitley.
11:12 pm: This is a high point in Indian politics when the world is seeing slow growth, says Jaitley.
11:08 pm: GST is an important achievement for the whole country: FM Arun Jaitley
11:07 pm: India will awake to limitless opportunities, says Jaitley.
10:06 pm: Reform shows India can rise above narrow politics, says Jaitley.
11:00 pm: President Pranab Mukherjee, VP Hamid Ansari arrive in Central Hall of Parliament for launch of GST.
10:29 pm: Ratan Tata reaches Parliament to attend GST launch.
10:21 pm: GST will be a big platform to improve the economic situation of farmers, labourers, says Ananth Kumar.
10.15 pm: Jayant Sinha, Minister of State for Civil Aviation admires the lit up Parliament building. In a post on Twitter, he says, "Parliament really looking beautiful tonight and ready for history to be made."
10.10 pm: In an opinion column in The Indian Express today, Kanika Chawla, a senior programme lead at the Council on Energy, Environment and Water, says the GST Council's confusion on solar power casts doubt on its commitment to renewables.
9.52 pm: Hours before the implementation of GST, many stores across the country have been trying to sell their stocks, offering huge discounts of up to 40 per cent. The landmark unified tax regime will replace over a dozen central and state taxes from tomorrow.
9.40 pm: The government has started a twitter seva to answer any query on GST on a real time basis. Through the handle @GST_GOI, thousands of taxpayers are already seeking information on new rates etc. If you have any doubts, you know where to go now!
Meanwhile, there are FAQs released by the government in English, Hindi and 10 other languages — when we say FAQs we mean a list of 500 questions! — on different topics. GST is clearly explained through PPTs, learning videos and other training materials.
9.30 pm: The Railway Ministry has granted exemptions from levying GST on passengers travelling in second class, metros and sleeper classes on trains. Further, those transporting agricultural produce, relief materials, milk, salt and food grain via rail are also exempted, reports AIR.
9.10 pm: The Congress-led United Democratic Front (UDF) opposition is boycott a government function at Kochi tomorrow, to do with the GST rollout tonight. Leaders are protesting because of the lack of discussion on GST in the state Assembly before it was passed.
9.04 pm: The Delhi BJP is planning to organise camps to help traders and the commonman with their problems with GST, Further, Delhi BJP president Manoj Tiwari along with Jaitley will address and GST-related meeting at Talkatora Stadium next week.
8.55 pm: Assam Chief Minister Sarbananda Sonowal says GST will bring a paradigm shift in the entire indirect tax system. "With introduction of GST, the countrymen will be relieved of multiple tax terrorism, which has been haunting the people since Independence. As promised by the Centre, the zero tax on food items will also greatly benefit the people," he said, reported PTI.
8.40 pm: Did you know?
Finance Minister VP Singh was the first to propose GST, during the budget for 1986-87? However, it was only in 2000, that PM Atal Bihari Vajpyee set up a committee headed by the then West Bengal Finance Minister Asim Dasgupta to design a model for GST.
8.30 pm: Fadnavis says India will grow faster after the implementation of GST. "I think India will grow faster, better, economy will be benefited, all the states will be benefited," he was quoted as saying by ANI.
8.20 pm: If you're wondering what exactly's going to happen tonight at the GST launch, here's a quick breakdown:
The event will begin at 11.00pm, with President Mukherjee arriving at the Parliament's Central Hall. The national anthem will be played for a minute, followed by which Jaitley will give a few introductory remarks. A presentation on GST will be played for the audience. Following this, PM Modi and Prez Mukherjee will address the function. At midnight, GST will be launched.
8.18 pm: The GST Council has reduced the rate on fertilizers from 12 per cent to 5 per cent, and exclusive parts on tractors from 28 per cent to 18 per cent.
8.12 pm: Venkaiah India wakes up to an era of freedom from shackles of taxation, says Venkaiah Naidu.
Taking to Twitter, Union Minister Venkaiah Naidu on Friday said, "At stroke of midnight on June 30, India wakes up to an era of freedom from shackles of taxation. Country rises as One Nation with One Tax."
7.55 pm: Jaitley chairs GST Council meeting Finance Minister Arun Jaitley is chairing the 18th GST Council meeting at the Vigyan Bhavan, hours ahead of the rollout.
7.45 pm: The guest list for the event Lok Sabha Speaker Sumitra Mahajan, Former PM HD Deva Gowda and ofcourse, Prime Minister Narendra Modi and BJP president Amit Shah.
Other polticians who are likely to attend include former finance minister Yashwant Sinha, former Punjab CM Prakash Singh Badal, National Conference leader Abdul Rahim and Sushil Kumar Modi. RBI Governor Urjit Patel and his predecessors Bimal Jalan, Y V Reddy and D Subbarao will attend (Raghuram Rajan is not on the list).
Chief Election Commissioner Nasim Zaidi, Niti Aayog vice chairman Arvind Panagariya, CVC KV Chowdary and 'Metro man' E Sreedharan will also be in attendance. CAG Shashi Kant Sharma. Former CAGs Vinod Rai and TN Chaturvedi will be present as well.
MP and acclaimed vocalist Lata Mangeshkar and Bollywood star Amitabh Bachchan have been invited for the event, along with Business mogul Ratan Tata – Editor S Gurumurthy, Agriculture scientist M S Swaminathan, UPSC Chairman David R Syiemlieh, CBEC chairman Vanaja N Sarna, CBDT chairman Sushil Chandra and seniors advocates Soli Sorabjee, KK Venugopal and Harish Salve. Various industry heads such as Pankaj Patel of Ficci, Shobana Kamineni of CII and Sunil Kanoria of Assocham will be present, along with the members of the GST Council.
7.30 pm: RJD chief Lalu Prasad Yadav says GST is 'anti-small traders'
"The GST is anti-small traders. There are many anomalies in the new tax regime and that is why protests are being reported from many parts of India," he said "The GST was passed by everyone and they (BJP) are celebrating it. Let them celebrate," he added. His party will be boycotting today's midnight Parliament session. Read all about the midnight session here.
7.25 pm: India Inc hails GST rollout
India Inc has hailed the rollout of the GST, saying it will give huge momentum to the country's economy and tempt global businesses to invest in India.
"The medium-term impact of GST on macroeconomic indicators is expected to be extremely positive. Inflation will be reduced as cascading of taxes will be eliminated. Tax revenues of the government would go up with expanded tax net, and fiscal deficit would remain under control. Further, exports would emerge as more competitive in global markets, while FDI is likely to be encouraged," CII Director General Chandrajit Banerjee was quoted as saying by PTI.
Assocham President Sandeep Jajodia said GST will help India move many notches higher in the global ease of doing ladder. "Finally, a big bang reform is here, rolling out and creating a history," Jajodia said.
Ficci expects the rollout to bring about significant gains to the country's economy, while easing the burden of taxpayers in understanding and complying with various tax laws.
6.25 pm: Mamata says freedom, democracy faces 'grave danger'
West Bengal Chief Minister Mamata Banerjee says freedom and democracy will face "grave danger" at midnight. Speaking to ANI, she says, "The mockery of inspector Raj is back.
"Given atmosphere in country of vindictively targeting anyone who dares to disagree with Central Govt. I am deeply concerned that arrest clause in GST may well be used to target business leaders who raise voice of dissent on any policy matter/any practices," she adds.
6.20 pm: J&K Assembly to hold special session on GST
Jammu and Kashmir, the only state yet to pass the state GST Bill, will hold a special session from July 4 to build consensus over the implementation of the GST, reports ANI.
5.50 pm: Congress leader Anand Sharma targets govt
Senior Congress leader Anand Sharma has called it an 'insult' to hold the GST function at the Parliament's Central Hall, adding that the BJP-led NDA government is using the event as a 'publicity' tool — similar to what other Congress leaders have said.
5.25 pm: GST war-room
The Finance Ministry has set up a war-room, equipped with phones, computers and tech-savvy personnel, to ensure a smooth implementation of the GST. The unit, available between 8 am to 10 pm, is specifically to help central and state officials clarify any urgent queries.
4.50 pm: Siddaramaiah says the government is using GST as a "propaganda tool"
Karnataka Chief Minister Siddaramaiah says his party opposes the use of GST as a "propaganda tool". He questioned the need to organise its rollout in the Parliament's Central Hall — which has previously been used only when India got freedom, to celebrate 25 years of independence and to mark 50 years of independence.
"…they are doing it for propaganda. We are not against GST, but the way they are doing it," the Congress leader said.
4.40 pm: Markets begin July series on a positive note, await GST rollout
Stock markets ended the week on a high ahead of the implementation of the GST. Today, on the opening day of the July series derivative contracts, Sensex ended 0.21 per cent higher at 30,921.61 while the 50-share NSE Nifty closed 0.18 per cent higher at 9.520.90. Sensex stayed in the negative zone for most of the session, but buying at the fag-end pushed it to the green.
4.25 pm: Here's what AAP leader Manish Sisodia has to say about GST
Delhi Deputy Chief Minister Manish Sisodia says GST may end up as a "huge mess" if concerns of the new tax regime aren't resolved on time. "Traders are scared. People are worried," Sisodia, who holds the state finance portfolio, added, hours ahead of its rollout today. Speaking at an India Today conclave he said, "Special GST software has been tested. It is not foolproof, but they (the Centre) are going ahead with the launch. I do not understand the need for such a haste. The GST is a great idea, but its implementation is not."
"In the entire taxation process, it is only the governments which are going to gain, not the aam aadmi (common man). It is unfortunate that real estate was kept outside the GST ambit," Sisodia added.
4.10 pm: Uttar Pradesh traders stage protest on rail tracks
Traders in the business hub brought the Kanpur-Pratapgarh passenger train to a halt earlier this morning after staging a protest on the railways tracks. The demonstration, led by 'Akhil Bhartiya Udyog Vyapar Mandal' leader Gyanendra Misra began this morning, but was called off after personnel removed protesters. The traders allege GST will cause a loss of over Rs 2,000 crore.
3.40 pm: Rahul Gandhi says govt 'incompetent and insensitive'
Congress vice-president Rahul Gandhi, reacting to the government's hurried launch of the Goods and Services Tax, said "like demonetisation, GST is being executed by an incompetent and insensitive govt without institutional readiness. India deserves a GST roll-out that does not put crores of its citizens, small businesses, traders through tremendous anxiety."
Here's what Rahul Gandhi said on Twitter:
"A reform that holds great potential is being rushed through in a half-baked way with a self-promotional spectacle #GSTTamasha. India deserves a #GST rollout that does not put crores of its ordinary citizens, small businesses & traders through tremendous pain &anxiety. Unlike demonetisation, GST is a reform that @INCIndia has championed & backed from the beginning. But like demonetisation,GST is being executed by an incompetent&insensitive Govt w/o planning foresight &institutional readiness #GSTTamasha."
3.30 pm: What Sumeer Chandra, MD, HP Inc. India has to say on GST rollout
"We believe Goods and Services Tax (GST) will act as a catalyst to speed up the digitization drive across the nation as small and medium businesses look to transition to a transparent tax system. With GST, PC adoption is expected to accelerate as they will play a pivotal role in enabling compliance and adoption of the new regime. As a longstanding partner in India's digital transformation, HP continues to support the government and all stakeholders in enabling this reform and we are also offering an integrated GST solution that allows traders and MSMEs to make a smooth transition."
3.20 pm: This is what ICICI MD and CEO Chanda Kochhar has to say on GST rollout
"The Goods & Services Tax is a transformational structural reform which will have multiple benefits – the creation of a national market; enhanced ease of doing business; greater productivity & efficiency; and improved tax compliance. All stakeholders are working together for a seamless transition to this new paradigm. This reform will result in benefits for all participants in the Indian economy, including both businesses & consumers."
More from The Indian Express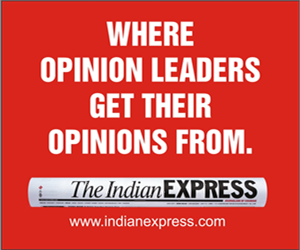 The Indian Express