'How I won £4,000 back from my bank'

Lovemoney
06-11-2015
Banks and building societies are having to hand over thousands of pounds in compensation to customers who were mis-sold packaged current accounts.
These fee-charging accounts come with all sorts of added extras, such as travel insurance or breakdown cover. However, in many cases people have been sold accounts with benefits they could never make the most of, or they've been told they have to upgrade from a free account.
Case study: one woman wins back over £4,000
Teresa Burke recently received more than £4,000 in compensation from Royal Bank of Scotland and Barclays, banks that she had held accounts with for decades. With both banks she was upgraded from a free account to a fee-charging one, and told that there was no alternative but to start stumping up the monthly fee.
And these fees were significant. With the Barclays account the monthly fee began at £14.50 in 2007, rising to the current £16 per month, while with RBS the fee stood at £12.95 until the account was closed in July 2014.
Miss Burke wrote to both to demand the monthly fees be refunded, and subsequently received £2,163.53 from RBS and £1,979.51 from Barclays.
She confessed that she hadn't actually expected to get anywhere, but RBS was very quick to hand the money back. "When I chased Barclays up, I was actually told that they are so busy with these claims they couldn't keep up," she added.
MUST SEE (SLIDESHOW): Don't make these 17 mistakes with your money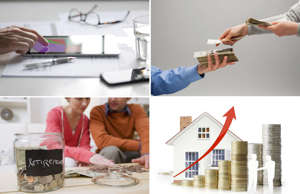 The problem with packaged accounts
Miss Burke is just one of thousands of people who have been incorrectly sold a packaged bank account.
What's more, people are beginning to realise that they have been ripped off and are starting to complain about it – packaged bank accounts are now the second most common subject of complaints referred to the Financial Ombudsman Service, after payment protection insurance (PPI).
In total, more than 32,000 complaints were referred to the Ombudsman between April 2014 and March 2015.
According to the Ombudsman, complaints about packaged accounts tend to fall into one of the following categories:
the customer was pressured into taking out a packaged account;
the customer didn't know they had a packaged bank account;
the customer thought that they had to have a packaged bank account;
the customer was recommended a packaged account that wasn't suitable for them;
the customer wasn't clearly told the cost of the account, or the limitations of the account's added features weren't explained;
the customers was given incorrect information about the account, such as having it would make them more likely to be approved for a loan.
How to complain
If you believe you have been mis-sold a packaged bank account then the first step is to complain directly to your bank or building society.
It's best to put this in writing, so send them a letter. Explain clearly why you believe that you have not been treated fairly. You should keep a copy for yourself too.
Now you wait and see how your bank will react. You may get lucky, like Miss Burke, and immediately enjoy a healthy refund of the fees you've paid, plus interest. However, your bank may say no.
If, eight weeks after your initial complaint, the bank has said no or hasn't resolved the complaint to your satisfaction, you can take your case to the Financial Ombudsman Service.
The Ombudsman is an independent body which settles disputes between individuals and financial firms. Taking your case to the Ombudsman doesn't cost you a penny. You will need to fill out a complaint form, which you can get from the Ombudsman's website. Or you can phone for help on 0300 123 9 123.
What can the Ombudsman do?
If the Ombudsman finds in your favour, then it will tell the bank to make things right. This will normally mean refunding the fees you have paid for the account, plus interest at 8% per year.
It may also tell the firm to pay compensation for 'trouble and upset', for example if someone experienced unnecessary inconvenience or disruption because an insurance claim wasn't paid.
However the Ombudsman makes clear that such compensation will not be awarded simply because an account was mis-sold.
Packaged account complaints – do I need to use a claims management firm?
One of the main reasons for the sharp rise in complaints to the Ombudsman about packaged accounts is the influence of claims management firms. Indeed, claims managers are behind a whopping 80% of the complaints, according to the Ombudsman.
However, you don't need to use a claims manager to make a successful complaint. What's more, if you do use one, and your complaint is upheld, you'll have to hand over a portion of your compensation.
The best free bank accounts
You don't need to fork out a fee every month for a cracking bank account. Here are some of the best around that won't cost you a penny.
For example, you can get 5% interest – far more than most savings accounts – with the Classic Plus Account from TSB or the FlexDirect Account from Nationwide.
Another Nationwide account, the FlexAccount, comes with free European multi-trip travel insurance.
Or if you want to make a few quid back from your bank account, there are plenty of accounts paying introductory bonuses and cashback. With the Halifax Reward Account you get £5 back every month so long as you pay in £750, have two direct debits and stay in credit. What's more, you get £100 for switching too, so you can earn up to £160 in the first year.
Other banks that pay you a joining fee include Clydesdale and Yorkshire Banks, which hand over £150, and First Direct, which pays £100.