How Much Money Do You Need to Retire in Hawaii?

Investopedia
14-07-2016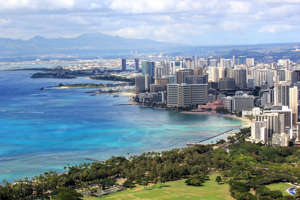 Sapphire blue seas. Beaches that beckon with soft white and glittering black sands. Fresh pineapples and ahi tuna. An ancient native culture whose traditions bring a unique spirit to the way of life on these eight lovely islands. (Technically there are 137, but the majority remain uninhabited.) There are obvious reasons why Hawaii consistently ranks high on lists of places where Americans not only most want to travel, but also hope to retire. Yet before you trade in your leather boots for flip-flops and your skis for a surfboard, take a look at the real cost of living in paradise.

Economically speaking, the majority of retirees to Hawaii who hail from what locals call "the mainland" (that is, the contiguous 48 states) aren't necessarily in the proverbial top 1%. And you don't have to be to retire there. All the same, for most of Hawaii's sun-loving, beachcombing retirees, the challenge isn't maintaining or achieving luxury, but simply covering the often-astronomical cost of daily expenses in America's most remote state.
Without proper research and planning, packing up and retiring to the Aloha State on a whim could be dangerous – and not because you'll be hit in the head with a coconut. According to the AARP, high prices for essentials such as transportation, healthcare, housing and food in Hawaii have made it difficult for current adult residents over 50 to save for retirement. That's a good indicator that, even as a potential resident who may be landing in Honolulu with a healthy savings account, your expenses will likely exceed what you're accustomed to in your home state.
Location, Location
Do you want to sunbathe on Waikiki Beach and have access to big-city amenities? Keep in mind that Honolulu, the state's capital and biggest city, climbed 20 points in 2014 to rise into the top 100 most expensive cities in the world according to the Mercer Cost of Living Rankings. In 2016 it ranked number 37 in the world.
While smaller towns tend to be more affordable – excepting, of course, upscale beach communities – you'll find that the price of consumer goods remains high across the islands. For example, gasoline and utilities are actually slightly more expensive in Hilo than in Honolulu. If you´re hoping for small-town prices, remember, you're on an island: Nearly everything other than what Hawaii produces itself must be imported by air or boat. Expect that nearly 90% of what you buy from the supermarket will come from the mainland. One cost-saving trick? Hit the local farmers markets and skip the prepackaged foods.
Rent Check
Hawaii's housing costs can vary dramatically depending on whether you're renting a one-bedroom cottage in a small town on Kauai or an oceanfront condo with one of Honolulu's most sought-after views. quality of life and cost of living, the average price for a one-bedroom apartment in Honolulu city center as of July 2016  is $1,675. As a point of comparison, an average one-bedroom apartment in another iconic American beachfront city, Los Angeles, comes in at only $145 more. Outside of Honolulu's center, the price drops to around $1,337. For a three-bedroom spread in the center of Honolulu, expect to pay around $3,393.
The budget-minded – as well as those who prefer a laid-back, small-town vibe – might consider a charming town like the Big Island's Hilo: Rents run about 41% to 67% lower than in Honolulu, depending on location and size. In dollar terms, that means the average one-bedroom apartment outside of the town center costs $783. If that sounds cheerfully affordable, brace yourself for the price of breakfast.
Hidden Costs in Paradise
The price of breakfast? It's enough to make you spill your milk: The average American weekday breakfast costs about twice as much in Hawaii as in Washington, D.C., or Orlando, owing to the price of milk (as much as $8 to $10 per gallon) and cereal (upwards of $8 per box). What is dearly expensive in Hawaii – especially when compared with the rest of the nation – is a surprisingly prosaic list: most junk foods, frozen pizzas, packaged cake mixes and nearly anything else that comes in a box. That helps explain why the average grocery bill in Hawaii is a whopping 66% higher than on the mainland.
Driving Up Costs
A big ticket item in the Aloha State remains, perhaps unsurprisingly, the cost of owning and driving a vehicle. When you move to Hawaii, do you plan to drive regularly? If you currently own a vehicle, you've probably noticed that the U.S. mainland price of gasoline has become significantly cheaper since last year – a 33% decrease from February 2014 to February 2015, according to the U.S. Department of Labor's Bureau of Labor Statistics. Yet while two bucks and a quarter will buy you a gallon of gasoline in Minnesota, expect to pay about a dollar more in the Big Island's Kailua Kona.
On the Side
If you do plan to get a part-time job on the side to supplement your savings, investments and Social Security payments, Hawaii isn't a bad place to consider. While the unemployment rate in Washington D.C. – a city that even during the Great Recession maintained some of the strongest employment rates in the nation – was 6.4% as of April 2016, in the state of Hawaii it was even lower: 3.2%. For more, see Retirement Doesn't Mean You Have to Stop Working.
The Bottom Line
To figure out how much it would cost to retire to Hawaii, start by listing normal activities and purchases that you will likely continue in the Pacific time zone, whether it's a weekly psychotherapy appointment or twice-weekly golf. Just as cereal might cost more in aHilo supermarket than it does at your local Brooklyn bodega, your routine activities "back home" may also cost more in your new time zone. Research healthcare and other costs.
While it's true that a meal of fresh sushi and papaya might cost you less than a box of Raisin Bran, the economics of retiring in Hawaii involve more than the simple math of substitution. Yes, you can substitute many of the costliest "musts" in your current lifestyle for cheaper ones: The heating bill that was astronomical in Buffalo will be negligible in Kona and you may not need much air-conditioning if you pick one of the cooler spots. Yet while some expenses will veritably disappear from your spreadsheet (say, that snowblower you needed in Sioux Falls) others will inevitably appear. Earthquake insurance, for example.
Honolulu is the fourth most expensive city in the U.S. and North America – and the 18th most expensive in the world – according to the website Expatistan (as of July 13, 2016). Still, you could spend even more to retire: New York City ranked second in the U.S. and North America and fifth in the world. And who says you have to retire to Honolulu?
Make a budget, decide how lavish your needs are and figure out whether what you can afford matches up with the lifestyle you want for retirement. One difference compared to retiring abroad, another (cheaper) way to enjoy the tropics: You will still be in the United States and covered by Medicare and the U.S. healthcare system. Of course, you can find excellent and less costly care in many other countries. Review these and other issues in Retirement: U.S. vs. Abroad before you make a final decision.