How to Make Money From Home: 7 Ways That Aren't Scams

The Motley Fool
14-12-2015
There are many good ways to make money at home. Just don't fall for a scam. Image source: Pixabay.
"Make money from home!" To some, this is an intriguing and appealing proposition. Many times, though, as you have probably suspected, it's a scam. Fortunately, if you need or want to make money from home, it can be done -- in legitimate ways.
Sorting out the scams
First, let's review what some of the scams are so you don't fall for them. One suggests you can make a lot of money assembling toys or doing other crafts at home. All you have to do is buy a kit with which to get started. So you spend your money, make your first items per the instructions, and send them in -- only to be informed that they're not up to the required standards. Don't think you can improve, either, because the only one making money is the one selling the starter kits.
Many other scams involve asking you to pay up front for any of the following:
Companies that hire people to work from home. (You may get a list of companies, but they won't be ones eager to hear of your interest in working from home.)
Directions on how to make money typing things at home. (The directions may just tell you to place ads offering typing services.)
Software to perform medical billing. (You won't be informed that most medical billing is done through companies, not individuals.)
Information on how to make money stuffing envelopes. (Instead, you'll likely be told how to advertise to others so they send you money to learn how to make money stuffing envelopes.)
You may also be invited to call a 900-number for more information on making money at home. Again, the one making the money is the one who's charging you a lot per minute for the call. Another possibility is that you may be invited to join what turns out to be a pyramid scheme -- where you make money by recruiting friends to sell products and then receive a cut of their sales. There are some legitimate forms of such "multi-level-marketing" (MLM) businesses (such as Avon, Mary Kay, Pampered Chef and Amway) -- but tread carefully among MLM businesses.
With some scams, you pay money for a disk with get-rich software on it, but then get charged for holding the disks. Another powerful scam is an invitation to be a "secret shopper," and the method of separating you from your money is one used by other scammers, too. You're sent a big check, which you deposit, and are told to wire some of the money back. You do, but the initial check bounces, leaving you poorer.
A key thing to keep in mind regarding ways to make money at home is this: If it sounds too good and easy to be true, it probably is.
Make money from home -- for real
So, what
can
you do from home? Lots of things! Here are seven ideas to get you started:
If you have sizable investment accounts, you can use your money to make more money, via investing. There's a solid case to be made that you'd do as well or better just sticking with inexpensive, broad-market index funds, such as the SPDR S&P 500 ETF, Vanguard Total Stock Market ETF, and Vanguard Total World Stock ETF, as index funds often outperform even professional money managers. But you could do well studying and choosing stocks on your own.
You might work at home for a regular, non-scamming employer. Many companies have positions open that require you to work from home most or all of the time. You might even be able to negotiate the ability to work from home for your current job.
If you're without a job, or have time for more work, consider freelancing. You can do many things from home on a freelance basis -- such as writing, editing, illustration, web design, graphic design, and so on. Explore possibilities at sites such as Upwork.com, Freelancer.com, Guru.com, iFreelance.com, Workhoppers.com, and Fiverr.com -- among many others.
If you have academic expertise -- and most of us do, in at least some subjects -- you might make money at home by tutoring kids. Sites such as Tutor.com and WyzAnt.com can help you find such work.
If you prefer animals to kids, you could do some pet-sitting -- in your home or the home of the pet in question. Many pet owners need dog walkers, too.
If you're crafty, you can make and sell all kinds of things online -- via sites such as Etsy.com, UncommonGoods.com, Zibbet.com, HandmadeArtists.com, HyenaCart.com, ArtFire.com, ShopHandmade.com, Zazzle.com, MadeItMyself.com, and aftcra.com, among many others. You could sell items you knit, make from wood, or paint, as well as soaps, candles, t-shirts, jewelry, and more. 
Here's another idea: Make money at home by decluttering your home and selling lots of things you no longer need (or never needed!) via yard sales or on eBay.
MUST SEE (SLIDESHOW): You won't BELIEVE these jobs pay 6 figures!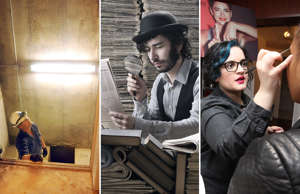 Spend a little more time thinking and you can probably come up with more ways to make money at home. Find the options that are most promising and appealing to you and see how well you do.