iPhone 6C Rumor Roundup: 10 Incredible Features Leaked

Forbes
18-01-2016
Earlier this month, Forbes contributor Ewan Spence reported that Apple was cutting the production of the iPhone 6S and iPhone 6S Plus by 30% for the next three months. It is believed that Apple cut its inventory due to excess supply caused by higher exchange rates, making the devices more expensive in emerging markets. However, industry insiders are suggesting Apple is ramping up to release a smaller version of the iPhone –  which would resonate with consumers that were resistant to the increase in size. 

There is speculation that the smaller-sized iPhone will be called either "iPhone 6c," "iPhone 7C," "iPhone 6S mini" or "iPhone 5e" ("e" for "enhanced"). Based on Apple's previous device name conventions, I believe it will most likely be called "iPhone 6c." Like the iPhone 5C, the iPhone 6c targets budget-minded consumers and Apple fans in emerging countries. More importantly, the iPhone 6c is expected to have 10 features that will make it appealing for consumers. Below is a breakdown of the expected features:
1.) 4-Inch Display Returns
The iPhone 6c is expected to have a 4-inch display just like the iPhone 5, iPhone 5S and iPhone 5C. And the resolution of the screen is believed to be set at 1,136 x 640 pixels, making it the same as the iPhone 5 and iPhone 5S. As a comparison, the iPhone 4 and iPhone 4S have a 640 x 960 pixel resolution, the iPhone 6 and iPhone 6S have a 750 x 1334 pixel resolution and the iPhone 6 Plus and iPhone 6S Plus have a 1242 x 2208 pixel resolution.  
2.) Metal Covers And Multiple Colors
For the iPhone 5c, Apple decided to use a hard-coated polycarbonate casing instead of an aluminum enclosure. The iPhone 6c will have an aluminum build instead of a plastic casing, which seems to be preferred by consumers due to its resilience.
What will the iPhone 6c have in common with the iPhone 5c? The iPhone 6c is reportedly going to have bright color options just like its predecessor. The iPhone 5c was available in blue, yellow, pink, green and white and the iPhone 6c may have similar options. Below is a 3-D rendering of the iPhone 6c color options, created by designer Ferry Passchier via 9to5Mac.
MyDrivers , on the other hand, is expecting the iPhone 6c to be available in just gold, silver and space grey. 
Steve Hemmerstoffer (known as OnLeaks ), the editor of a France-based Apple blog called nowhereelse.fr, recently leaked an image of the iPhone 6c. Hemmerstoffer  has been reliable in the past since he leaked the iPhone 6 before it was released. Here is the leaked image :
© Provided by Forbes Alleged iPhone 6C via Steve Hemmerstoffer / Image Credit: Steve Hemmerstoffer
3.) "2.5D" Screen Glass
© Provided by Forbes Types of screen glass / Image Credit: MI via Facebook Like the iPhone 6 and 6s, the iPhone 6c is expected to have "2.5D" cover glass. Other devices that have 2.5D glass includes the Galaxy Note 4, the Google Nexus 6, the Xiaomi Mi Note and the Oppo R7. The 2.5D screen is considered halfway between the straight 2D glass used in the iPhone 5S and curved 3D glass used in the Samsung Galaxy S6 edge and Galaxy Note edge.
What is the benefit of 2.5D glass? Aside from aesthetics, 2.5D glass helps keep finger swipes smooth. Since many navigational gestures rely on swipes from the edge of the phone, 2.5D glass has become essential. For example, swiping from the bottom to the top of an iPhone brings up the Control Center and swiping down from the top brings up the Notification Center. 
4.) A9 Chip
Despite being a smaller device, the iPhone 6c is expected to have an A9 chip so it would be nearly as fast as the iPhone 6S and iPhone 6S Plus. The A9 chip rumor appears to have been confirmed by supply chain sources with KGI analyst Ming-Chi Kuo.
Kuo has been a reliable source in the past since he correctly predicted that the iPhone 6S would be thicker and have the 3D Touch feature. He also correctly predicted that Apple would be releasing a larger-sized iPad  and a pressure-sensitive stylus. Last year, Apple released the 12-inch iPad Pro and a stylus called the Apple Pencil.
Apple will be using 14/16nm FinFET chips provided by Taiwan Semiconductor Manufacturing Company (TSMC) and Samsung for the A9, according to DigiTimes . Originally Apple was planning to use the TSMC 20nm process, but the FinFET chips makes the iPhone 6c faster and power-efficient. To complement the A9 chip, the iPhone 6c will also likely have an M9 motion coprocessor.
5.) 2GB RAM
Apple usually does not highlight memory in the technical specifications of its devices, but it is an important feature. In the iPhone, RAM is used for storing app data and temporary files. However, RAM can become clogged up if it is not cleared regularly. If a device has more RAM, it becomes faster because it is less likely to become clogged up with app data.
According to sources at Apple manufacturing partner Foxconn with MyDrivers , the iPhone 6c will have 2GB of RAM, which is the same amount as the iPhone 6S and iPhone 6S Plus. The iPhone 6, iPhone 6 Plus, iPhone 5s, iPhone 5c and iPhone 5 all shipped with 1GB of RAM. If the iPhone 6c does end up shipping with 2GB of RAM, it would become of the fastest iPhones on the market when it is released.  
6.) 8-Megapixel Rear Camera
© Bloomberg The camera lens component of an Apple Inc. iPhone smartphone is seen in an arranged photograph in Hong Kong, China, on Friday, Sept. 25, 2015. The iPhone 6c camera will most likely have the same 8-megapixel iSight camera with 1.5µ pixels as the iPhone 6. And it should have all the other bells and whistles like an f/2.2 aperture, true tone flash, hybrid IR filter, five-element lens, backside illumination sensor, auto image stabilization, face detection, auto HDR, burst mode, panorama, geotagging, timer mode, 1080p video recording, slo-mo video, time-lapse video, etc.
The FaceTime HD camera of the iPhone 6c will likely be set at 1.2-megapixels with an f/2.2 aperture. It will also have 720p HD video recording, auto HDR, face detection, burst mode, timer mode and a backside illumination sensor.
7.) Storage starting at 16GB
Kuo's supply chain sources also said that we can expect the storage size of the iPhone 6c to start at 16GB. This does not come as a surprise because all of Apple's most recent iPhones also start at 16GB. 
The 16GB storage size was a problem before iOS 9 was released because Apple's mobile operating system consumed a lot of storage space, leaving little room for photos, videos and apps. Fortunately, Apple made substantial under-the-hood improvements in iOS 9 so it consumes much less space now. iOS 9 also includes a feature known as App Thinning, which reduces the sizes of apps to make sure that only parts of the app are downloaded that specific devices actually need.
8.) Touch ID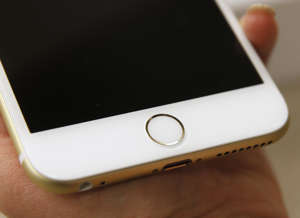 One of the features that distinguished the iPhone 5S from the iPhone 5c when the devices were introduced in September 2013 is the Touch ID fingerprint sensor on the Home button, which made its way into many Apple products since then. Unlike the iPhone 5c, the iPhone 6c will have the Touch ID fingerprint sensor. 
In May 2015, a photo of an iPhone connected to a Lightning dock inadvertently appeared on the Apple website. The iPhone actually looked like an iPhone 5c with a Touch ID fingerprint sensor – which means it may have been an image editing error or it could have potentially been a prototype of the iPhone 6c. Here is that image:
9.) 1,642mAh Battery
Sources with MyDrivers are suggesting that the smaller-sized iPhone will have a 1,642 mAh battery so it would be 72 mAh higher than the 1,570 mAh battery in the iPhone 5S. As another comparison, the iPhone 6S has a 1,715 mAh battery. 
"This newly leaked model has a battery which is just 4.25% smaller than the one in the iPhone 6S, but it is driving almost 30% fewer pixels. Similarly it has a 40% smaller battery than the iPhone 6S Plus, but is driving 64% fewer pixels. As all other factors between them are equal, this means the 4-inch model should have superior battery life to both Apple's current flagships," said Forbes contributor Gordon Kelly in a recently published article. "Furthermore given the 4-inch model has the same chipset and RAM but is driving 30% and 64% fewer pixels than the iPhone 6S and iPhone 6S Plus respectively, it should also be significantly faster."
10.) Apple Pay
The iPhone 6c is expected to have near-field communication (NFC) technology so it will be able to support Apple Pay. Apple Pay lets you pay in stores or within apps using credit cards, retail store credit cards and reward cards stored in your iOS device. Apple Pay only requires one touch using a natural motion without having to open an app or wake up your display or you can double-click the Home button to access your Wallet app. 
Lack of 3D Touch
Kuo said he does not expect the iPhone 6c to have 3D Touch, which is a pressure-sensitive feature found in the iPhone 6S and iPhone 6S Plus. 3D Touch senses how much pressure is applied to the display in order to activate a feature called Peek and Pop. Peek and Pop lets you preview content and act on it without having to actually open it. Light presses let you "Peek" at emails in your inbox and a deeper press will "Pops" it open. 
3D Touch relies on capacitive sensors integrated in the display. Once the display is press, the capacitive sensors reads microscopic changes between the cover glass and the backlight. If Apple added 3D Touch to the iPhone 6c, then it would be harder to sell it at a lower price so this is a sacrifice that has to be made.
Price / Release Date
When is the iPhone 6c expected to arrive? Most likely, the smaller-sized iPhone will be announced in March 2016 at an Apple event in California. Last month, an executive at China Mobile revealed in a slideshow that a device called the "iPhone 7C" is expected to be released in April 2016. Based on Apple's prior product introduction timeline, the Apple Watch 2 is likely going to be introduced at the same event. However, IHS analyst Kevin Wang is speculating that the iPhone 6c will actually be released in the middle of 2016 instead.
Kuo is pegging the retail price of the iPhone 6c somewhere between $400 and $500 and is suggesting it will sell around 20 million units for the calendar year. And Pocket-Lint is speculating that the smaller-sized iPhones will start at 4,000 yuan ($617) in China.
Why Make A Smaller iPhone Again?
There are many consumers that preferred smartphones that are smaller than the 4.7-inch iPhone 6S and 5.5-inch iPhone 6S Plus. After all, many people avoided buying the iPhone 6 Plus due to "bendgate."   NBA player Matt Bonner even blamed an elbow injury on the larger-sized iPhone since it was a "strain to use" and users have to "stretch further to hit the buttons."  A lower-cost iPhone could also enable Apple to gain further traction in emerging markets like India and China.
Why The iPhone 6c Will Work
Based on the aforementioned specifications, I believe that the iPhone 6c could do very well. By opting for aluminum instead of plastic, it will not feel like a cheaper device. Since it will be fast, support Apple Pay, have a decent camera and include Touch ID, it will definitely be appealing for budget-minded consumers that are not concerned about being early adopters.
Didn't The iPhone 5c Flop? 
There was speculation that the iPhone 5C "flopped" because the price was not as low as expected. However, it seems like the success of the iPhone 5S simply overshadowed the iPhone 5c. The iPhone 5S was more popular than the iPhone 5c because the latter had specifications that were nearly identical to the iPhone 5, making it appear to become obsolete even quicker.
During an investor call, an analyst asked CEO Tim Cook about the iPhone 5C model and pointed out that it was expected to be lower in cost. "It was the first time we'd ever run that particular play before, and demand percentage turned out to be different than we thought. We sold more 5S than we expected," said Apple CEO Tim Cook during a call.
In a different Forbes article, Ewan Spence pointed out that the iPhone 5c was not a failure because it sold more than an estimated 24 million units. If another mobile company rivaling Apple sold that many units, then it would be celebrated. The advantage of the iPhone 6c is that Apple could use the same hardware as the iPhone 6, slap it into a different chassis, advertise it as a new handset and sell millions of additional units — which is great for the Cupertino giant's bottom line.
What are your thoughts about the iPhone 6c rumors? Please leave a comment!