Narayana Murthy's Continuous Assault Why Vishal Sikka Resigned: Infosys

NDTV
18-08-2017
(Video provided by NDTV)
Co-founder NR Narayana Murthy's "continuous assault" including his latest letter is the primary reason Vishal Sikka has quit, Infosys said today hours after announcing its CEO and Managing Director's resignation. The Infosys Board, the company said, has no intention of asking N R Narayana Murthy to play a formal role in the company's governance.
Click here to read full text of Vishal Sikka's resignation letter as CEO and MD of Infosys
The IT major said Mr. Murthy's letter written last week and alleging falling corporate governance standards in the company, attacked the integrity of the board and management of the company. The board said it "takes great umbrage to the contents of the letter" and that it will not give in to demands from former top Infosys executives to bring back Mr Murthy as Infosys chairman.
Complete coverage on Infosys row
The company said "Mr. Murthy has repeatedly made inappropriate demands which are inconsistent with his stated desire for stronger governance. The board is a fully independent board, with professionals as its members who have been appointed by a clear majority of the shareholders."
Mr Murthy has led Infosys' founders in repeatedly criticising the company's leadership over executive pay packages and for what they have called lapses in corporate governance, which Dr Sikka and the board have consistently denied.
READ: Vishal Sikka resigns as MD and CEO of Infosys
In an email to some of his advisers last week, Mr Murthy had reportedly said that he had been told by at least three independent directors of the company that Vishal Sikka was less CEO material and more chief technology officer (CTO) material. He also criticised the Infosys board for not upholding governance standards and for not creating checks and balances required in any well-run company, the newspaper Mint had reported.
READ: Infosys shares nosedive as MD & CEO Vishal Sikka resigns
Vishal Sikka has resigned blaming a "continuous stream of distractions and disruptions." The 50-year-old said the attacks had become increasingly personal and negative and that the "distractions" were preventing the management's ability to accelerate the company's transformation.
Infosys said since Dr Sikka was appointed as MD and CEO in August 2014, Infosys has delivered competitive financial performance through profitable revenue growth and has continued to maintain the highest standards of corporate governance that the company is known for.
ALSO ON MSN: The world's most counterfeited brands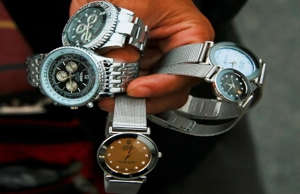 (Slideshow provided by Lovemoney)