No big changes coming to iPhone this fall: Report

CNBC
23-06-2016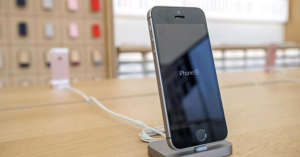 © Provided by CNBC undefined In a significant change to an established pattern, Apple (AAPL) will not be making substantial changes to the next iteration of the iPhone, which will come out this fall, according to a report in the Wall Street Journal.

The one exception: New iPhones will no longer have headphone jacks, a move that is likely to dismay some users.
The company will retain the current 4.7 inch and 5.5 inch sizes, according to the WSJ, citing people familiar with the matter. Apple is planning much bigger changes to the a planned release in 2017, the 10th anniversary of the iPhone, according to WSJ. (An Apple spokesperson declined to comment on the story.) 
At least some analysts have anticipated a modest upgrade this cycle, likely in preparation for a more substantial overhaul of the iconic device down the road. Analysts at Pacific Crest last month said that Apple will likely end the numbered upgrade cycle at some point in the near future, and likely move from a metal encasement to glass, and start to use organic LED screens.
Nevertheless, the Cupertino, CA-based giant is clearly preparing for a big release in the fall, as there's evidence that the company's Taiwanese suppliers have been mass-hiring recently in response to projected demand.
Even though the WSJ report supports what other analysts have been saying for some time, there are a few skeptics. RBC's Amit Daryanani told CNBC last month that he doubts Apple will be moving to a three-year upgrade cycle.
"I'm just not sure if Apple is truly going to a conscious three-year cycle as you go forward though," he told CNBC's "Squawk on the Street."