Prepare to pay more for air travel: Jet fuel prices hiked by 6 per cent

India Today
01-10-2017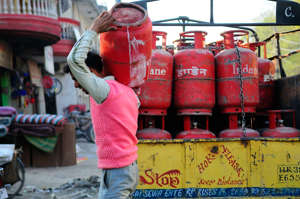 © Priyanka Parashar/Mint via Getty Images The prices of ATF (aviation turbine fuel) or jet fuel was hiked today by 6 per cent pertaining to soaring international rates.
This is for the third time the rates have been increased since August. (ATF) will now cost Rs 53,045 per kilolitre (kl) in Delhi, Rs 3,025 per kl more than Rs 50,020 previously, according to a price hike notification by Indian Oil Corp, the nation's biggest fuel retailer.
Jet fuel will now cost Rs 53,045 per kl (kilolitre) in Delhi, an increase of Rs 3,025 per kl than Rs 50,020 previously, stated Indian Oil Corp in its price hike notification. It's the third consecutive monthly hike in jet fuel price with the last being on September 1, by 4 per cent (Rs 1,910 per kl).
NOT JUST ATF, LPG TO COST MORE AS WELL
Also, cooking gas (LPG) price was hiked by Rs 1.50 per cylinder in line with the government decision to raise rates every month to eliminate subsidies by March. A subsidised 14.2-kg LPG cylinder will from today cost Rs 488.68 in Delhi as against Rs 487.18 previously, IOC said.
The hike comes on back of over Rs 7 per cylinder increase effected from September 1. Oil Minister Dharmendra Pradhan had on July 31 told the Lok Sabha that the government had asked state-run oil firms to raise subsidised cooking gas (LPG) prices by up to Rs 4 per cylinder every month to eliminate all the subsidies by March next year. Rates were, however, raised by Rs 2.31 per cylinder on August 1 and the oil companies effected a large hike on September 1 to equalise that, sources said.
Also read: If global prices have fallen, why are we paying more?
Since the implementation of the policy of monthly increases from July last year, subsidised LPG rates have gone up by over Rs 69.50 per cylinder. A 14.2-kg LPG cylinder was priced at Rs 419.18 in June 2016. The government had previously asked IOC, Bharat Petroleum Corp Ltd (BPCL) and Hindustan Petroleum Corp Ltd (HPCL) to raise rates of subsidised domestic LPG (liquefied petroleum gas) by Rs 2 per 14.2-kg cylinder per month (excluding VAT).
The quantum has now been doubled so as to bring down the subsidy to nil. Every household is entitled to 12 cylinders of 14.2-kg each at subsidised rates in a year. Any requirement beyond that is to be purchased at market price.
Also watch on MSN:
(Video by the Times of India)
The price of non-subsidised LPG or market priced cooking gas has also been hiked by Rs 1.50 to Rs 599 per bottle. Rates at the last revision on September 1 were hiked by Rs 73.5 to Rs 597.50 per bottle. State-owned oil firms revise rates of LPG and ATF on 1st of every month based on average oil price and foreign exchange rate in the previous month.
Today's hike in the LPG price is fifth since the May 30 order of the oil ministry to raise rates by Rs 4 per cylinder every month. There are as many as 18.11 crore customers of subsidised LPG in the country. These include over 3 crore poor women who were given free connections during the last one year under the Pradhan Mantri Ujjwala Yojna. There are another 2.66 crore users of non-subsidised cooking gas.
More from India Today

India Today