Sensex Falls Nearly 200 Points As Rupee Tumbles To All-Time Low

NDTV Profit
24-11-2016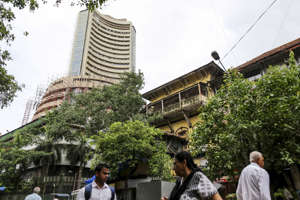 Sensex fell nearly 200 points and Nifty settled below 8,000 on Thursday after the rupee fell to record low against the US dollar which further dented the sentiment at a time when investors are already worried about how demonetisation will affect economic growth.
The rupee fell to as low as 68.87 per dollar, surpassing its record low of 68.85 hit in August 2013, as the greenback remained strong over the prospect of higher US interest rates. Earlier the local currency had rebounded sharply after hitting a low of 68.84 on heavy intervention by the central bank.
The fall in the rupee comes at a time when investors are souring on the government's shock move to remove high-value notes from circulation, which came on the eve of the unexpected election of Donald Trump as US President.
The NSE Nifty has slumped 6.76 percent since the demonetisation announcement on November 8.
"The gloom in the market due to the lack of (cash) liquidity is unlikely to ease until February next year," said Saurabh Jain, assistant vice-president of research at SMC Global Securities.
The Sensex ended 192 points lower at 25,860 and Nifty fell 68 points to settle at 7,965.
Auto makers, which could be hit by reduced consumer demand due to the demonetisation, were among the leading decliners in today's session with Tata Motors falling 4.2 percent and Eicher Motors declining 2.5 percent.
But software exporters rose on the back of a weaker rupee. TCS and Infosys ended 1 and 2.26 percent higher, respectively.
The broader markets also ended on a subdued note as the BSE mid-cap and small-cap indices fell 0.1 percent each.