Sept 2 strike: Common man set to be hit; check out how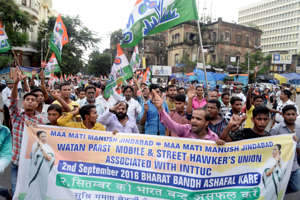 Trade Union Strike on Sept 2: Common man set to be hit; check out how
Reiterating their countrywide general strike call, 10 central trade unions (CTUs) on Wednesday said that banking, insurance and road transport services would be the worst hit on September 2, while industrial clusters would also remain closed. Read more here.
Why proposed Sept 2 strike may bring country to a standstill
More than a million workers in banking, telecom and other sectors will go on strike on Friday, seeking higher wages and to protest against Prime Minister Narendra Modi's labour reforms and a plan to close some loss-making firms. 10 trade unions including the All India Trade Unions Congress and Centre of Indian Trade Unions rejected a government appeal on Tuesday to call off the strike, saying it failed to address their demands. Read more here.
Trade union strike: Modi govt faces biggest strike since coming to power
The government's effort to dissuade 10 central trade unions (CTUs) from going ahead with the September 2 strike did not succeed  as the minimum wage advisory board (MWAB) meeting remained inconclusive. This would make it the biggest-ever labour strike since the new government under Narendra Modi assumed office in May, 2014. Read more here.
Central trade unions to go on general strike on 2 September against Centre's labour reforms
CTUs reiterate the call for countrywide general strike on 2 September against the "anti-worker and anti-people policies" of the government and in view of its "utterly unresponsive and undemocratic attitude", CITU General Secretary Tapen Sen said. All India Trade Union Congress (AITUC) Secretary Amarjeet Kaur said the unions view the announcements made by Ministers' panel, headed by Finance Minister Arun Jaitley, as an eyewash. Read more here.
2 years' bonus for central govt. employees: Jaitley
Finance Minister Arun Jaitley on Tuesday held a press conference on a charter of demands proposed by Central Trade Unions. In a major breakthrough, Jaitley said that the central government employees will get their pending 2 years bonus soon. He also added that Centre has decided to write to all states regarding compliance of Contract workers law. Read more here.
WATCH: Left unions reject govt offer, say Friday strike holds