Surya namaskar similar to namaz: Yogi Adityanath

LiveMint
29-03-2017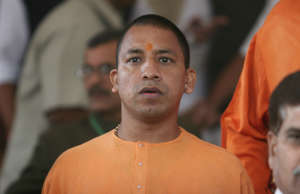 Lucknow: Uttar Pradesh chief minister Yogi Adityanath on Wednesday said 'surya namaskar' was similar to 'namaz' (prayers) offered by Muslims and those opposing the yogic exercise wanted to divide the society on religious lines.
Aditynath, who had in the past lashed out at a section of Muslims for terming the practice of 'surya namaskar' as un-Islamic, said the sun salutation was a beautiful example of religious harmony.
"The namaz offered by Muslims resembles different postures and asanas of surya namaskar including pranayam. What a beautiful example of harmony (between two religions). But some 'bhogis' who do not believe in yoga, indulged in dividing the society on lines of caste, creed, religion and region among others," he said.
ALSO READ: UP's Yogi Adityanath moves in after Chief Minister's bungalow in Lucknow gets a makeover
"All asanas (postures) in surya namaskar, pranayama activities are similar to the way Namaz is offered by our Muslim brothers. But nobody ever tried to bring them together because few people were interested only in 'bhoga' not yoga," he said.
ALSO READ: What's in a name? Confusion, when it comes to UP CM Adityanath

Aditynath was addressing a gathering on the inaugural day of the three-day UP Yoga Mahotsava in Lucknow. Taking a jibe at the previous governments at the centre and in the state, he said, "If permission for a similar programme was sought, it would had been dubbed as communal."
"Before 2014, even talking about Yoga was considered communal. But things changed after Modi took steps to make Yoga popular across the world," he said, praising Prime Minister Narendra Modi.
COMPLETE COVERAGE: Yogi in power
After various state governments decided to make yoga and surya namaskar compulsory in schools, the All India Muslim Personal Law Board (AIMPLB) had launched a nationwide campaign against it. Aditynath had come out full throttle in support of surya namaskar after a controversy erupted over the inclusion of the exercise in the government's yoga protocol with a section of Muslims saying that their faith does not allow them to practise it.
He had then said that those who see communalism in even Sun God should drown themselves in the sea or live in a dark room for the rest of their lives. Adityanath, a Hindutva mascot, has pledged after taking charge as chief minister that there will not be any discrimination on the basis of religion.
Showering praise on the Prime Minister for making yoga a global phenomenon, Adityanath said, "Modi deserves all the credit for the global recognition which yoga has got" and referred to the UN declaring International Yoga Day on 21 June. "The number of countries which participated in the International Yoga Day celebrations in 2015 was 175, which went up to 192 in the subsequent year," he said