The 10 Biggest American Companies

The Motley Fool
23-07-2015
These companies bring in the most annual revenue of any other publicly traded companies in the U.S.
In the land of the free and the home of the brave, bigger almost always means better, especially when it comes to revenue. These 10 American companies top the Fortune 500 list for annual revenue, but that doesn't mean each doesn't face its own challenges. Rising competition, falling prices, and a touch of mismanagement are just some of the problems these companies must address. 
But at the end of the day, these 10 American workhorses drive much of the country's growth, and most show no signs of slowing down. Click through the slideshow to find out more about America's biggest companies.
The 10 Biggest American Companies
10. CVS Health
Annual Revenue: $139.4 Billion
Employees: 177,800
• CVS is the largest prescription drugs retailer in the U.S.
• The company has 7,800 retail pharmacies and 900 walk-in clinics
• Second-largest benefits manager, with 65 million pharmacy benefits members
9. Ford Motor Company
Annual Revenue: $144 Billion
Employees: 194,000
• While automotive sales as a whole have been up, Ford hasn't enjoyed the same success lately
• But the company's F-150 remains the best selling pickup truck in the U.S.
• Over the past year, Ford's share of the U.S. auto market has remained steady at 15%
8. General Electric
Annual Revenue: $148.3 Billion
Employees: 307,000
• Though a worldwide conglomerate, GE is focusing once again on energy and power
• Recently ditched its GE Capital business to focus in on the industrial sector
• Company is currently working on its largest acquisition – the purchase of French power and grid company, Alstom, for $13.8 billion
7. Phillips 66
Annual Revenue: $149.4 Billion
Employees: 14,000
• Main business is oil refinery
• Spun off from former parent company, ConocoPhillips, in 2012
• The company's building out its midstream business, which has higher profit margins than its refineries
6. General Motors
Annual Revenue: $155.9 Billion
Employees: 216,000
• GM commands about 17% of the U.S. auto market
• In the wake of record-setting recalls, GM has set up a $400 million fund to pay victims
• Despite its recall setbacks, the automaker's technology focus is driving the company forward
5. Apple, Inc.
Annual Revenue: $182.8 Billion
Employees: 97,200
• The iPhone 6 and 6 Plus are one of the most popular iPhone lineups to date — boosting iPhone sales to 74.5 million in fiscal Q1 2015
• While the PC market is falling, Apple's computer sales continually buck the trend
• Though not a proven success yet, the Apple Watch is the standard for smart wearables
4. Berkshire Hathaway
Annual Revenue: $194.7 Billion
Employees: 316,000
• A holding company steered by Warren Buffett, Berkshire owns subsidiaries in a myriad of businesses, from insurance to energy
• Core investments IBM and Coca-Cola have struggled as of late, leading some to question Buffet's approach
3. Chevron
Annual Revenue: $203.8 Billion
Employees: 64,700
• Second-largest oil company in the U.S.
• The recent dip in oil prices has forced the company to pull back on oil exploration
• Problems at its $10 billion liquified natural gas (LNG) plant in Angola caused the plant to shut down in 2014, but should be up later this year
2. Exxon Mobil
Annual Revenue: $382.6 Billion
Employees: 83,700
• World's largest oil company
• Revenue has been down for three consecutive years
• Though worldwide oil supply is high right now, Exxon's focusing on growing energy demands to bring growth back to the company
1. Walmart
Annual Revenue: $485.6 Billion
Employees: 2.2 million
• The retail juggernaut is trying to find its footing as the online retail market grows
• Despite recent revenue growth, Walmart faces stiff competition from both Amazon and higher-end grocers
• Doug McMillon took over as CEO last year, hopefully taking Walmart into its next phase
More from The Motley Fool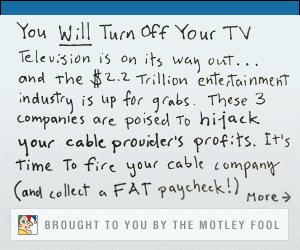 The Motley Fool