Top 6 apps to manage your money better
Managing money can be a stressful task. We've hand-picked 6 apps from the Windows Store to get you started with the process, save more money and take smarter financial decisions.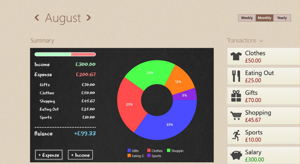 Spending Tracker is the easiest and most user friendly personal finance App in the store. And it's free! The simple fact is, by tracking your spending you will be able to stick to a budget and therefore save money. Give it a try and have instant control over your spending!
Get the Spending tracker app here
2. MoneyPoint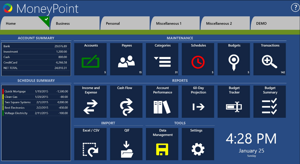 MoneyPoint will help you to maintain your accounts, transactions, schedules, payees and budgets. With MoneyPoint you will be able to record, categorize, reconcile and track all your day-to-day transactions. MoneyPoint reports will provide you with the information you need to monitor your cash flow, income and expenses, budgets, account projections and performances. 
3. Money Lover - Expense Manager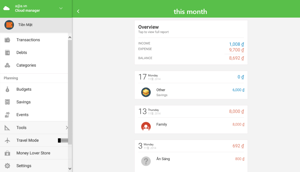 It doesn't matter whether you want to manage expenses, create a budget, or keep track of your savings and bills,  Money Lover is here to ensure you and your family a better and financially-secured lifestyle. Manage your money smartly, plan with budgets and cut off the non-essentials, get instant notifications when a budget reaches your specified limit, create achievable saving goals and keep track of them in real time.
Get the Money Lover - Expense Manager app here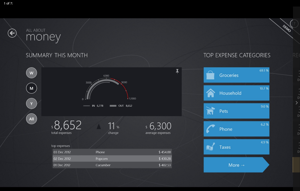 All About Money helps you manage your money in a fun new way. Track expenses, income and savings; schedule periodic transactions; analyze spending by category or tag; review trends and find where to cut down on spending; sync your data across Windows 8.x devices. See where your money comes from and where it goes.
Get the All About Money app here
5. Homeasy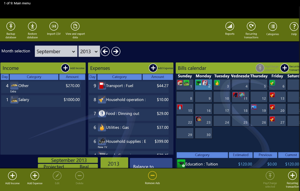 Homeasy helps you with your monthly household finances management. It includes a calendar that shows the status of bills, helping identify upcoming payments. You just have to set up your recurring transactions and a calendar will show all the important dates. The status of the items will be automatically updated with income/expense transactions.
6. Selffina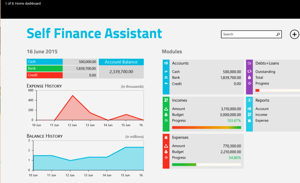 © PT JavaLangIT Isticom Teknologi

A personal finance assistant that meets almost all your needs in managing your money. Selffina has been used in more than 160 countries with positive reviews. Available for Windows (phone + desktop + tablet).