Xiaomi's Re 1 sale: 1,000 Mi Bands sold out in 7 seconds

India Today
05-05-2015
Chinese tech company Xiaomi sold out 1,000 units of its Mi Band fitness tracker in just 7 seconds. Tuesday marked the first flash sale for the company's recently launched Mi Band. The sale commenced at 2PM IST.
The Mi band is priced in India at Rs. 999.
However, unlike its usual scheme of things, the company put the Mi Band on sale on its official Mi.com online store for registered buyers, rather than making it available on Flipkart. This makes the Mi Band the company's first device to be sold through the flash sale mode via its online store.
Xiaomi's Mi.com website however wasn't as smooth an operator as Flipkart, as registered buyers reported a 'sold out' message for the MI Band sale, even before 2PM.
Although the company had not revealed the number of units that would go on sale, Xiaomi had earlier announced that it would be offering the fitness tracker for a price of Re.1 to first 1,000 registered buyers as part of a 'Special Preview' promotion scheme.
ALSO READ: Xiaomi Mi 4i: Best smartphone under Rs 13,000 >>
Since, the company's official twitter handle says that "MiBand's first special preview sale went out of stock in 7 seconds", we have reason to believe the company sold out the 1,000 units in this time frame.
There is still no clarity over the exact number of units though. Chances are Xiaomi put up only 1,000 units of the Mi Band on sale this time round. But there's no confirmation from the company on this one yet.
The Mi Band was launched in India on April 23, along with the company's new mid-range device, the Mi 4i. Registrations for the first flash sale began on April 28.
The Mi Band is essentially a fitness and sleep tracking band with a battery life of 30 days. It is also water resistant and comes in a wide variety of colour options including Blue, Pink, Brown, Black, Purple and Grey.
Most popular on MSN Technology:
Silicon Valley CEO dies falling off a treadmill >>
After Snapdeal, it's PayTM: FIR against co's directors >>
ALSO SEE SLIDESHOW: 10 gadgets that changed the world >>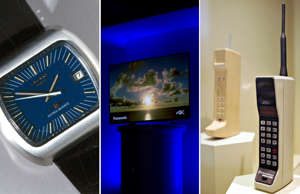 More from India Today

India Today