Gold prices today fall after two-day gain, silver rates edge higher

Livemint
3 days ago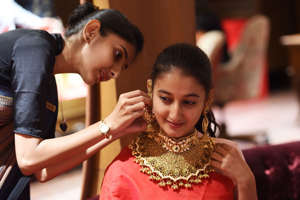 Gold prices in India edged lower after rising for two days. On MCX, gold futures were down 0.09% to ₹38,463 per 10 gram.
In the previous two sessions, gold prices had risen over ₹400 per 10 gram. Silver however edged higher today with futures on MCX rising 0.12% to ₹46,100. Silver had logged gains of nearly ₹900 per kg in past two sessions. In global markets, gold prices continued their uptrend today, rising to one-week high of $1,511.24 per ounce.
Uncertainty about the outcome of US-China trade talks lifted the safe-haven appeal of gold. Hopes of a breakthrough in US-China trade talks diminished after the Trump administration earlier this week widened its trade blacklist to include some of China's top artificial intelligence startups, ratcheting up tensions.
The 15-month trade war between the world's two biggest economies has hurt business sentiment. The new IMF chief on Tuesday warned that the global economy is experiencing a "synchronized slowdown," saying that "everyone loses in a trade war". Worries about global economy, the trade war and softening monetary policy stance by global central banks have sharply lifted gold prices this year.
In Pics: This is who owns most of the world's gold
(Slideshow by Lovemoney)
Minutes of the discussion of Federal Reserve's September meeting showed officials were sharply divided when they decided to cut their key policy rate for a second time this year. However, US Federal Reserve Chair Jerome Powell earlier this week signaled openness to further rate cuts to fend off global economic risks. Lower interest rate helps increase the appeal of non-interest yielding gold.
Back in India, jewelers are lining up offers to lure buyers ahead of Dhanteras and Diwali. The October to December quarter is typically a strong quarter for gold sales in India due to festivals and the wedding season.
Though gold prices have corrected from last month's high of nearly ₹40,000, they are up about 20% so far this year. And combined with an economic slowdown, many analysts have tempered expectation of a sharp uptick in retail gold demand this year.
Also watch: RBI has enough room to cut rates further, says Morgan Stanley's Desai
(Video provided by Bloomberg)
The latest tranche of sovereign gold bonds, which opened for subscription on October 7, will close for on October 11. The issue price is ₹3,788 per gram. Another tranche of gold bonds will open for subscription towards the end of this month.
(With Agency Inputs)