Union Budget 2015: Finance Minister says no change in individual tax rates
12:44: Individual tax payer will benefit to the extent Rs.4,44,200/- from the exemptions announced: FM
12:42: Jaitley moves to introduce the Finance Bill for 2015-16, House accepts it
12:39: Even our worst critics will agree that we have moved rapidly: FM
12:38: Enactment of Direct Tax code under consideration: FM
12:37: Transport allowance increased to 1600/month from 800/month earlier: FM
12:37: Individual tax payer can get the benefit of over 4 lakh: FM
12:35: Investment in Sukanya Samridhi Scheme will be fully exempted from tax: FM
12:33: Increase in limit of deduction of health insurance premium from 15,000 to 25,000. It will also be eligible for tax rebate: FM
12:32: 100% deduction to contribtions to Swachh Bharat funds: FM
12:31: Additional funds to be generated for Swachh Bharat and Clean Ganga: FM
12:31: Increase excise duty to 12.5%: FM
12:30: Tax administration reforms commission recommendations in advance stages of examination: FM
12:28: Will have 2% surcharge on super rich with above 1 crore Rs annual income: FM
12:28: Applicability of GAAR deferred by 2 years: FM
12:27: Propose to abolish wealth tax and replace it with surcharge on income above Rs 1 crore: FM
12:25: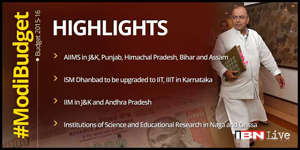 12:19: Fiscal Deficit target to be 3.9% in FY 2015-16 and Revenue Deficit to be 2.8% in FY 2015-16: FM
12:18: Non filing of returns or filing of returns with undisclosed foreign interests an offence eligible for a 7 year term: FM
12:16: Tracking down black money and bringing it back to India our prime focus: FM
12:16: Exemptions to individual tax payers to continue: FM
12:15: Promotion of make in India, removal of black money, min government max governance, benefit to tax payers, swacha bharat taken care of in tax propsals: FM
12:13: Rate of corporate tax reduced from 30 to 25 per cent: FM
12:13: Rate of corporate tax in 30 per cent, higher than other countries making it uncompetitive: FM
12:12: GST expected to play a vital role in developing the economy: FM
12:11: Propose to do much more to eradicate black money: FM
12:11: Taxation an instrument of social engineering: FM
12:09: We are pursuing policy of Make In India in defense not only to cater our needs but also for export: FM
12:07: National Skill Mission to be launched, to develop employability of youth, especially below 25 years of age: FM
12:06: Eastern states need an extra boost. Special assistance to Bihar and WB: FM
12:05: Institutions of science and educational research in Naga and Orissa: FM
12:04: Film production, animation institute to be set up in Arunachal: FM
12:03: Propose to set up in IIT in Karnataka, AAIMS in Dhanbad : FM
12:01: Will ensure no student misses out on education due to lack of funds: FM
12:01: 100th birthday celebration committee to be announcement for celebration of Mahatma Gandhi's birth anniversary: FM
12:00: Skill India needs to be closely connected with Make in India: FM
11:58: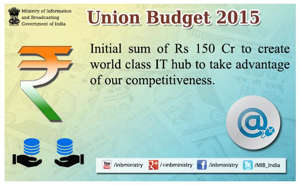 11:57: 150 countries to be included in Visa for arrival facility: FM
11:57: Work towards the improvement of heritage cites like Chuches in Goa, forests in Rajasthan, Leh palace ladhakh, Jaliahwalah bagh, and others 
11:55: Aimed at security of women, we have decided to prove 1000 crore for Nirbhaya fund: FM
11:53: Majority of Indians to have a rupee debit card. Cash flow encourages black money. We aim at making India a cashless society. Announcement in this regard to be made soon. More credit and debit cards to be announced: FM
11:53: Indian Gold coins to have Ashoka chakra minted on it: FM
11:52: Govt to set up Five Ultra Mega Power Projects in Power and Play mode
11:51: After a certain age, contributions to EPF should be optional. Intend to make changes in the same: FM

11:50: Ports in public sector will be encouraged to corporatize & become companies under Companies Act: FM
11:50: I have a vision of a building direct regime which will be at power with the world: FM
11:49: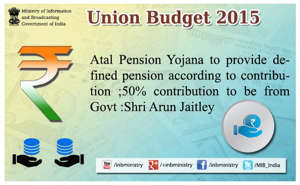 11:45:  PPP model of Infrastructure to be revitalized and realigned: FM
11:45: We have to make India an investment destination. Intend to appoint an expert committee where a need for multiple permissions will be subsituted: FM
11:44: We aim towards ease of doing business: FM
11:43: Govt provides Rs 5300 cr to support micro irrigation
11:42: Investment in Infrastructure to go up by 70,000 crores in 2015-16 over 2014-15
11:42: New scheme called Nayi Manzil to enable Minority youth without school leaving certificates to get the employment
11:42: Make in India programme is aimed at raising share of manufacturing in GDP and creating jobs
11:41: Intend to permit infrastructure bonds in rail, road and inflation
11:40: Major slippage in the last decade in the infrastructure. Major need to invest in the same. The figures are no match with the growth planned
11:39: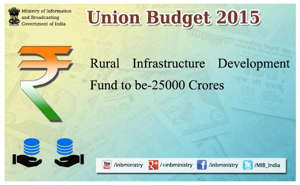 11:38: FM announces " Atal Pension Yojna
11:38: Propose new scheme for senior citizens below poverty line. This shows our dedication to the senior citizens
11:37: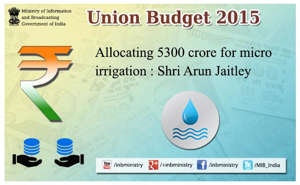 11:36: Govt. is committed to increase the access of people to formal financial system
11:35: Suraksha beema yojna to cover accidental death at the premium of Rs 12 per year
11:34: Govt committed to increasing people's access to formal banking, to expand the postal system. At least one member of each family to get job: FM
11:33: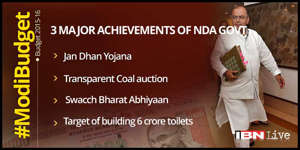 11:33: Rural Infrastructure Development Fund to be Rs 25000 Crore under NABARD
11:32: Propose to create Mudra bank for enterprises led by SC/ST
11:30: Focussed to improve quality of employment under MNREGA
11:29: Need to ensure "per drop more crop"
11:28: Roadmap to achieve Fiscal deficit of 3% of GDP in three years: Target is 3.9% in 2015-16, 3.5% in 2016-17, 3% in 2017-18
11:27: Committed to the process of rationalising subsidies. Need to cut subsidy leakage. Direct cash transfer to be expanded
11:27: Tax buoyancy is lower but still we will meet the promise of Fiscal deficit of 4.1% of GDP this year. Aim to make the country a prosperous and meaningful global power by 75th year of India's Independence
11:26: To meet fiscal deficit of 4.1% in FY15: FM
11:25: Additional fiscal space to be created for more investment
11:24: Public Investment needs to step in to catalyze the investment in PPP
11:23: Govt to support agriculture, health, mnrega for upliftment of the poor
11:22: Five challenges that we face
- Low Agriculture incomes
- Investment in infratructure
- Manufacturing declined from 18 to 17 per cent. Make in India aimed to tackle
11:20: Need to develop Make in India: FM
11:19: Education needs to improve in terms of quality
11:19: Good health a necessity for growth. Medical opportunities in villages a vital need
11:18: Aim to complete electrification by 2020 in villages that are still lacking power
11:17: Vision of team India is guided by Central government. By 2022 we aim at housing for all
11:16: Growth for 2015-2016 expected to be at 8-8.5 per cent: FM
11:16: Our actions have not only being confined to core & macro economic areas alone: FM
11:15: FM discusses the achievements of the government. The three main achievements are the success of Jan Dhan Yojna, Transparent coal auction, Swachh Bharat 
11:13: Our objective is to improve quality of life and to pass benefits to common man: FM
11:13: States are equal partners in Economic growth: FM
11:13: World is predicting it is India's chance to fly: Finance Minister
11:12: People in India have voted for change, for faster growth, for corruption free India: FM
11:12: Objective is to improve quality of life and to pass benefits to common man: FM
11:11: The Rupee has become stronger against other currencies: Jaitley 
11:10: The latest CPI inflation is 5.1 percent: Jaitley
11:10: Kuch toh phool khilaye humne, kuch toh phool khilane hai, par baagh mei abhi kaatein purane hai: Jaitley
11:10: States economically empowered more than ever before: Jaitley 
11:09: The credibility of the Indian economy has been established: Jaitley
11:08: When the other countries are facing challenges, India is about to move at a faster growth: Jaitley
11:08: States economically empowered more than ever before: Jaitley

11:07: India to take off on a faster growth trajectory: Jaitley

11:07: Finance Minister Arun Jaitley presents Union Budget 2015-16 in Parliament

11:07: Lok Sabha session begins

11:00: Cabinet approves Union Budget 2015-16. It will be presented by Arun Jaitley in Parliament at 11 am.
10:56: Budget papers at Parliament
10:34: Cabinet meet begins to approve Finance Minister Arun Jaitley's Budget 
10:27: CPM leader MB Rajesh: Government is silent on concessions to foreign and National Companies. Roll back of subsidies is nothing new. Subsidies is not a big problem, the government is painting in a different way.
10:25: Former chief economic adviser Dr. Shankar Achraya: Do not remember when the last fertiliser prizes had been increased. We have to do something on the subsidies. Moving the LPG to direct cash is one step. Not surprized if there is an announcement on LPG that certain section is not required to get subsidy on LPG.
ALSO READ: 7 top sops Arun Jaitley may deliver
10:19: The Big questions from the Budget are:
1. How will the government kick start manufacturing?
2. Will they be able to boost capital formation and investment in infrastructure?
3. Can the government make changes in personal tax and boost savings?
4. Will the government remove retro tax, reduce mat and correct the inverted duty structure?
5. Will we see an overhaul of subsidies to curb losses?
6. Will we see a clear roadmap for implementation of GST?
7. How will the 'Swachh Bharat' goals be funded?
8. Will startups get a policy boost?
MUST READ: What India's latest Budget won't tell you
09:44: Former President APJ Abdul Kalam tweets his Budget expectations, says "I wish a #Budget2015 which focuses on two things..equitable education and quality health care for all..This is best investment we can make."
09:42: "A budget 'Made in India' will 'Make India', strengthening all sections of society. All inclusive,policy driven, measurable,accountable," tweets BJP leader Kiran Bedi. 
09:38: Cabinet meeting to be held at 10:15 am for approval of the Union Budget
Don't Miss: How to read Union Budget 2015
09:27: Ahead of Union Budget 2015, Sensex opens over 200 points up, Nifty up by over 70 points in opening trade 
09:19: Jaitley has reached the President's House before he presents the Budget in Parliament today
09:18: Arun Jaitley carrying his briefcase of Budget documents outside his office in North block. Along with him is Minister of State for Finance Jayant Sinha 
Budget 2015-16: Full Coverage >>
09:16: Finance Minister Arun Jaitley to present his first full budget for the Narendra Modi-led government today!