First Death Sentence In 1984 Anti-Sikh Riots Case, One Life Term

NDTV
20-11-2018
(Video by Times of India)
NEW DELHI: One of the two attackers convicted of killing two Sikh men during the 1984 riots has been sentenced to death by a Delhi court. The other convict will spend life in prison, the court said today. Naresh Sehrawat, 68, and 55-year-old Yashpal Singh were convicted of killing the two men in south Delhi's Mahipalpur during the riots.
They have also been fined Rs. 35 lakh each. Yashpal Singh's sentence makes it the first death punishment in the 1984 anti-Sikh riots. On November 1, 1984, Hardev Singh and two others were at their grocery shops in Mahipalpur when a mob armed with iron rods, hockey sticks, stones, kerosene oil attacked them and set their shops on fire.
They rushed to Avtar Singh's home but the mob followed them and set it on fire. Hardev Singh and Avatar Singh were charred to death. The Supreme Court-appointed Special Investigation Team, formed in 2015, probed the 60 cases it had reopened out of the total 293 and succeeded in getting conviction in the first case last week.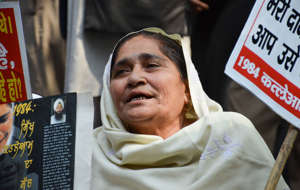 It has filed "untraced report" in 52 cases and of the eight cases being investigated, charge-sheets have been filed in five while the rest, in which senior Congress leader Sajjan Kumar is an accused, are pending investigation.
The verdict has given "Sikhs a ray of hope", said Union minister Harsimrat Kaur Badal.
Today, the justice has been delivered to 2 culprits of #1984SikhGenocide because of the efforts of NDA govt. I thank PM @narendramodi ji for setting up SIT in 2015 & reopening the case closed by Delhi Police in 1994. We will not rest till the last murderer is brought to justice.

— Harsimrat Kaur Badal (@HarsimratBadal_) November 20, 2018
The records say that over 2,800 Sikhs were killed across India after former Prime Minister Indira Gandhi's assassination by a Sikh bodyguard. The violence across the country, but mostly in Delhi, saw people dragged out of their homes and burnt alive.
Photos: Most violent cities in the world