Donald Trump demands immediate return of undocumented migrants as bitter debate divides America

The Telegraph
25-06-2018
Donald Trump, the US president, stoked his political base by calling on Sunday for the immediate deportation of illegal immigrants without judicial process as the consequences of his zero-tolerance border policy continue to divide the nation.
In a pair of tweets sent during the drive to his Virginia golf course, Mr Trump increased the rhetorical temperature, heaping pressure on Congressional Republicans ahead of an immigration vote expected this week.
"We cannot allow all of these people to invade our country," he wrote. "When somebody comes in, we must immediately, with no judges or court cases, bring them back from where they came.
"Our system is a mockery to good immigration policy and law and order. Most children come without parents."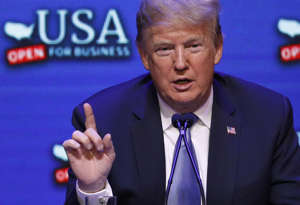 At the same time, in a sign of the country's bitter atmosphere, his supporters and opponents were playing out a proxy battle over a 26-seat restaurant in rural Virginia. The Red Hen became a touchpoint for America's polarisation after its owner asked Mr Trump's spokeswoman to leave because of the administration's "inhumane and unethical" policies.
Mr Trump was elected on a platform of clamping down on undocumented migrants. The issue came to a head last week when it emerged more than 2000 children had been separated from their parents as a result of his administration's zero tolerance policy.

Although the president signed an executive order to keep families together, his officials are struggling to navigate complex regulations designed to keep children out of detention for long periods while punishing their parents.
....Our Immigration policy, laughed at all over the world, is very unfair to all of those people who have gone through the system legally and are waiting on line for years! Immigration must be based on merit - we need people who will help to Make America Great Again!

— Donald J. Trump (@realDonaldTrump) June 24, 2018
The result is a backlog in the courts and frustration in the White House, where the president has no power to lift legal protection for immigrants and prevent the law running its course in court.

A new poll for CBS illustrates the divide. It found that although 74% of Republicans believe those who enter illegally should be punished "as an example of toughness", some 79% of Democrats believe they should be treated well "as an example of kindness".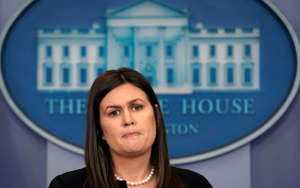 The crisis was among the divisions that exploded into public at the weekend amid the unlikely setting of a farm-to-table restaurant in Virginia.
Sarah Sanders, the White House press secretary, was quietly asked to leave when staff – who had seen her defend Mr Trump's border policy - asked owner Stephanie Wilkinson to take a stand.
Sarah, I know you don't care even a tiny little bit about the ethics rules, but using your official account for this is a clear violation of 5 CFR 2635.702(a). It's the same as if an ATF agent pulled out his badge when a restaurant tried to throw him/her out. https://t.co/Fj6OfBAdew

— Walter Shaub (@waltshaub) June 23, 2018
Mrs Sanders tweeted about the episode sparking an online backlash, followed in turn by a wave of liberal solidarity with the restaurant.

Walter Shaub, who served as White ethics chief under Barack Obama, accused Mrs Sanders of breaking the law by using her position to incite harassment.

"Sanders used her official govt account to condemn a private business for personal reasons," he wrote on Twitter. "Seeks to coerce business by using her office to get public to pressure it."
The restaurant remained closed on Sunday – a regular day off – as the storm raged online.
Efforts by websites such as Yelp to delete comments that were politically rather than gastronomically motivated appeared to be in vain, as critics posted images of mice in burger buns and excrement on plates.
"The food made me hurl, the service was horrendous and the servers were just about as nasty as could be," wrote Keith W, whose Texas location was more than 1000 miles from the restaurant.
Angelique A, David W and Anna N all used identical words: "To the owners of The Red Hen, thank you for being true Patriots and true Americans. You have a right to refuse service to evil people."
Bigotry. On the menu at Red Hen Restaurant in Lexington VA. Or you can ask for the "Hate Plate". And appetizers are "small plates for small minds" https://t.co/rHEVdcQwwh

— Gov. Mike Huckabee (@GovMikeHuckabee) June 23, 2018
Philippe Reines, a former adviser to Hillary Clinton, urged his followers on Twitter to follow his lead in supporting the restaurant.

"Hearing such wonderful things about the Red Hen restaurant, I bought a $100 Gift Card through your website," he wrote. "I don't live near Lexington, VA so may never make it in. If not please keep the payment."