Congress Approaches Chief Justice After Karnataka Governor Invites BJP To Form Government

NDTV
16-05-2018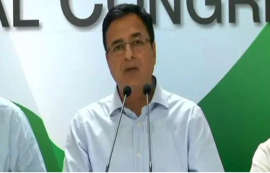 New Delhi: Minutes after Governor Vajubhai Vala invited BJP's BS Yeddyurappa to form the government on Wednesday evening, the Congress rushed to Chief Justice of Dipak Misra to ask him to cancel the governor's invitation to the BJP. The Congress, which has called the governor's decision an "encounter of the Constitution", has asked Chief Justice Misra to hold the hearing later in the night to ensure that Mr Yeddyurappa isn't sworn-in tomorrow.
Full coverage of Karnataka elections
Karnataka Governor invited BJP's BS Yeddyurappa to form government and gave him 15 days to prove majority on the floor of the house this evening.
Also read on MSN: Karnataka Governor invites BJP to form government
The BJP had emerged as the single largest party in Karnataka. It has 105 lawmakers, including an Independent, in the 222-seat assembly, but is seven short of majority.
The Congress, which got 78 seats, has partnered with the Janata Dal Secular and together they have 116 seats, four more than the halfway mark. The Congress says it is them who should have been invited to form the party first.
Addressing the media, Congress spokesperson Randeep Surjewala said, "The governor has shamed his office."
Watch video: Kumaraswamy says BJP offered 100 crores to his MLAs
(Video provided by NDTV)
"Amit Shah and BJP today sanctioned an encounter of the constitution and the law. Governor has subjugated the law and shamed the office of governor and I don't think such a person has the right to continue," Mr Surjewala added.
JDS leader HD Kumarasway said, "By giving 15 days time (to prove majority), governor is encouraging horse-trading by BJP leaders, this is unconstitutional. We will discuss the future plan."
ये भी पढ़ें : कर्नाटक में BJP को सरकार बनाने का न्योता, कांग्रेस बोली- हमारे पास 2 रास्ते