Karnataka governor invites BJP to form government, Yeddyurappa to be chief minister

Hindustan Times
16-05-2018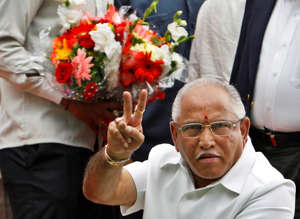 BJP leader B S Yeddyurappa was on Wednesday invited to form the next government in Karnataka by proving his majority in the legislative assembly in 15 days.
Full coverage of Karnataka elections
Karnataka governor Vajubhai Vala asked Yeddyurappa, 75, to take over the chief minister's post, capping a day of political flux that began after election results on Tuesday threw up a hung house.
The swearing-in ceremony will be held at 9am on Thursday.
Karnataka Governor's letter inviting BJP's BS Yeddyurappa to form government. #KarnatakaElectionResults2018 pic.twitter.com/EafBULC7nr

— ANI (@ANI) May 16, 2018
The BJP's claim to forming a government had been contested by a post-poll alliance of the Siddaramaiah-led Congress and former prime minister H.D.Deve Gowda's Janata Dal (Secular), which too met the governor on Wednesday seeking to be invited to form the government. Deve Gowda's son HD Kumaraswamy was projected as this alliance's chief ministerial candidate.
Also read on MSN: JD(S) accuses BJP of horse-trading
Karnataka held elections for 222 of its 224-seat assembly on Saturday and the results three days later gave the BJP 104 seats, the Congress 78, and the Janata Dal (Secular) 37 seats. JD(S) ally BSP won one seat, while two went to independents.
On Tuesday too, leaders of both sided had turned up at Raj Bhavan in Bengaluru to push their claim. On Wednesday, Kumaraswamy accused the BJP of trying to lure MLAs to boost its numbers to form a government saying his party's legislators have been offered Rs 100 crore and cabinet seats. The BJP rejected the charges of horse-trading, calling the Rs 100 crore figure cited by Kumaraswamy "imaginary".
Also read on MSN: Secrets of BJP's success
Yeddyurappa became Karnataka chief minister in 2008, but had to resign in 2012 after the state's Lokayukta indicted him for alleged corruption in an iron ore mining scam. He was briefly jailed, left the BJP to form his own party and then returned to the BJP before the 2014 Lok Sabha elections.
Yeddyurappa, who will lead BJP's only government in southern India, belongs to Karnataka's influential Lingayat community and is an MLA from Shikaripura.
The BJP rules 21 out of India's 29 states. Since its landslide national win in 2014 the party has stormed northern India, claiming around a dozen crushing state victories. A government in Karnataka bolsters the BJP's claim that it's an all-India party.
Watch video: Kumaraswamy says BJP offered 100 crores to his MLAs
(Video provided by NDTV)
Prime Minister Narendra Modi on Tuesday spoke along those lines. "They [Opposition parties] said the BJP is a party of Hindi-speaking states. Are Goa, Gujarat, Maharashtra, the Northeastern states Hindi-speaking states? No, BJP represents India and our proud diversity," he said in Delhi.
ये भी पढ़ें : येदियुरप्‍पा लेंगे CM पद की शपथ, PM मोदी-अमित शाह नहीं रहेंगे मौजूद
ये भी पढ़ें : कर्नाटक में वजुभाई बनाम देवगौड़ा: वो पुरानी कहानी