AAP's Manish Sisodia, On Hunger Strike At Lt Governor's, Taken To Hospital

NDTV
18-06-2018
On Day 8 of his sit-in protest, Chief Minister Arvind Kejriwal was reprimanded strongly by the Delhi High Court, which pointed out that a strike cannot be held on anyone's house and questioned who authorized it. AAP said it would respond. "This protest was the last possible option. We tried every democratic method before this," said senior party leader Sanjay Singh. Deputy Chief Minister Manish Sisodia, who was on a hunger strike, has been hospitalized, Mr Kejriwal tweeted. Health Minister Satyendar Jain was also shifted to hospital last evening. Arvind Kejriwal has urged Prime Minister Narendra Modi to "give a green signal to IAS officers to end their strike".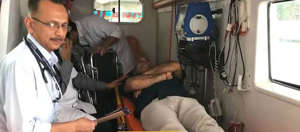 "This can't be called a strike. You can't go inside someone's office or house and hold a strike there," said the court," the Delhi High Court said today in response to a petition filed by BJP Leader of Opposition in assembly Vijender Gupta.
Two other petitions have been filed - one against the protest and another against what Mr Kejriwal's government calls a "strike" by IAS officers.  The court said IAS association will be party to the cases, all of which will be heard on Friday.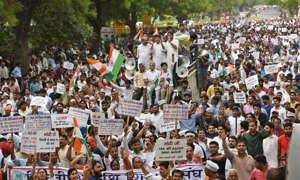 Manish Sisodia was taken to hospital after his  ketone levels shot up. "Manish Sisodia's ketone level reaches 7.4. Yesterday it was 6.4. ideally it should be zero. 2+ level is considered to be danger zone. Team of doctors reaching  LG house to see him," read a retweet from Mr Kejriwal.
Yesterday, a group of Indian Administrative Service officers held a rare press briefing to deny that they were on strike, cited concerns about their security and said they have been "targeted and victimised" for political gains.  Soon after, Mr Kejriwal reached out with a message, promising them security and seeking full cooperation.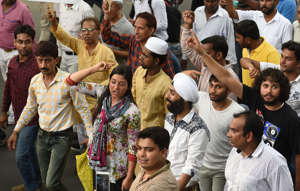 Thousands of Aam Aadmi Party suporters attempted to hold a march to the Prime Minister's Office yesterday, but they were stopped midway by the police, who said they did not seek permission for a protest. AAP claimed 45,000 people had turned up for the protest march.
Senior CPM leader Sitaram Yechury has lent support to Mr Kejriwal, saying federalism is being undermined. In a series of tweets, he said the BJP, using offices of Governors and LGs, sought to "destabilise non-BJP democratically elected state govts". A number of CPM cadres took part in yesterday's protest.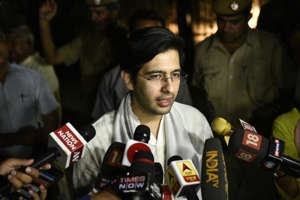 Mr Kejriwal -- who started his protest on Monday evening --  says till Lieutenant Governor Anil Baijal asks bureaucrats to change their approach, he will not leave the waiting room of the Lieutenant Governor's house-cum-office in Delhi. Three of his ministers - Manish Sisodia, Gopal Rai and Satyendar Jain - who accompanied him, also went into protest mode.
After Satyendar Jain's hospitalisation, Mr Kejriwal tweeted: "Last nite, Satinder Jain's ketone levels increased n he complained of headache, bodyache, difficulty in breathing n difficulty in passing urine. So, he had to be shifted to hospital. Now, he is doing well. It is 6th day of Mansh's fast. He is doing well," Arvind Kejriwal tweeted this morning.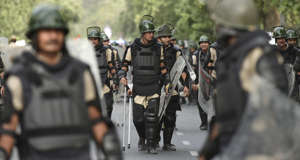 Mr Kejriwal's protest has been supported by most opposition parties - the key exception is the Congress, which is at loggerheads with AAP in Delhi. BJP ally Shiv Sena also sent messages of support.
Pawan Verma, spokesperson of BJP ally Janata Dal United, tweeted, "@ArvindKejriwal Those urging officers to non-cooperate against the elected government of the day, may reap immediate political benefit, but will destroy the very foundations of our Republic in the long run. What can happen against one elected govt can happen against another too!"
ये भी पढ़ें : हाईकोर्ट ने दिल्ली सरकार से कहा- आप किसी के दफ्तर में घुसकर ऐसे धरना नहीं दे सकते