Aarushi murder case: SC agrees to hear CBI's appeal challenging Talwars' acquittal

Hindustan Times
10-08-2018
(Video provided by NDTV)
The Supreme Court on Friday agreed to hear the CBI's appeal challenging acquittal of dentist couple Rajesh and Nupur Talwar in the murder of their daughter Aarushi.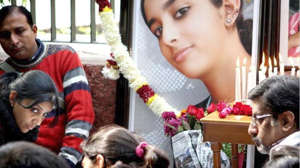 The apex court said the CBI's appeal in Aarushi case will be heard along with plea filed by wife of Talwars' domestic help Hemraj, who was also found killed in 2008. 

The court has also issued notice to the dentist couple, who were freed in October last year.
The sensational double murder in Noida in 2008 had rocked the country.
On October 12 last year, the Allahabad High Court acquitted the couple saying they could not be held guilty on the basis of the evidence on record and a CBI court decision convicting them and sentencing to life.
In March this year, the CBI filed an appeal in the Supreme Court challenging the Allahabad high court order acquitting the Talwar couple in the double murder in their residence.
Also watch on MSN: Key witness in Aarushi case speaks out
(Video provided by Times of India)