Amit Shah skips Kerala in abrupt sked change, meets PM Modi, Arun Jaitley in Delhi

NDTV
05-10-2017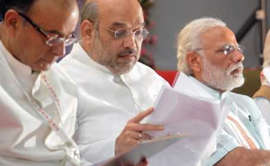 © NDTV BJP chief Amit Shah today skipped a visit to Kerala, opting out of a walk through Chief Minister Pinarayi Vijayan's village as part of the BJP's 15-day yatra in the state that aims to highlight what the party has called the "murder politics" of the ruling CPM. Mr Shah, state BJP state president Kummanam Rajasekharan said, missed yatra to attend a meeting with Prime Minister Modi and Finance Minister Arun Jaitley in Delhi.
State BJP leaders led thousands of party workers through Pinarayi village, roads to which were lined with BJP flags and posters to welcome Mr Shah, who, the party had said earlier, was scheduled to walk nine km and address a public rally today. But Amit Shah headed to Delhi from Mangalore instead of going back to Kerala this morning.
Party sources said he changed his plans to attend urgent meetings, with some saying they had heard Prime Minister Narendra Modi had summoned him. But senior BJP leaders dismissed speculation that the party chief had decided to skip today's Kerala visit because response to the yatra he launched two days ago has been tepid. There is no question of a poor response, they asserted.
In Kerala's Kannur, state BJP chief Kummanem Rajasekheran said Mr Shah's presence was not required as he himself could take the party's fight into Mr Vijayan's home base. Chief Minister Vijayan's party, the CPM, had called for a shutdown of the town, amid massive security, in anticipation of Mr Shah's visit.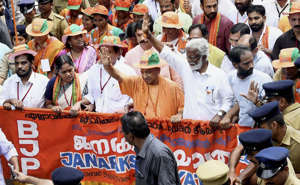 © NDTV Party spokespersons confirmed Amit Shah will now only join the BJP yatra when it wraps up in Kerala capital Thirvananthapuram on October 17. The BJP chief had launched the Jan Raksha (protect the people) yatra on Tuesday, with prayers at a Kannur temple and a searing attack on the CPM and the Chief Minister, stating, "More than 84 BJP and RSS workers have been killed in Kannur district alone. I want to ask Pinarayi Vijayan...Who has killed them? If he does not have answers, then I am saying that the chief minister is responsible for the killings."
Mr Vijayan hit back accusing the BJP of "trying to break the secularism of the state," and alleged, "Amit Shah came and became like a wet cracker here." He said the state government will "not be scared away by the weapons and wealth you have collected. Nobody should think that you can scare us away."
Yesterday, the BJP fielded its Hindutva face Uttar Pradesh Chief Minister Yogi Adityanath, who too attacked the CPM, saying, "The BJP yatra is to generate awareness on the violence and killings of political workers and those of our ideology. This yatra is a mirror to the governments of Kerala, Tripura and West Bengal to repent and put an end to the killing of innocent people." He also accused the Left-led government of not taking steps to check a "dangerous trend like love jihad".
Yogi Adityanath's walk too was centred around Kannur, infamous for years of political violence, especially between CPM cadres and those of the BJP and its ideological mentor the Rashtriya Swayamsevak Sangh (RSS). Other top BJP leaders, including chief ministers like Maharashtra's Devendra Fadnavis and Goa' Manohar Parrikar, will also be in Kerala over the next few days to participate in the relay walk which will cover the entire state.