BJP releases second list of candidates for Karnataka election

India Today
16-04-2018
(Video by NDTV)
A week after BJP released its first list of candidates for the Karnataka Assembly elections, the party today released its second list of candidates for 82 more seats. This takes the total number of constituencies for which it has declared its nominees to 154.
Polls for the 224-member Assembly are scheduled for May 12. The BJP released its second list of candidates, a day after its central election committee met New Delhi to finalise the names of its candidates for the high-stakes election.
Read: 2019 polls won't be easy for BJP
The BJP on April 8 had declared its first list of 72 nominees that included its chief ministerial candidate B S Yeddyurappa, and senior leaders K S Eshwarappa and Jagadish Shettar. The Congress had yesterday released its list of 218 candidates.
Read: Congress releases first list of candidates for Karnataka polls
The BJP is making an all-out bid to oust the Congress from power in the southern state.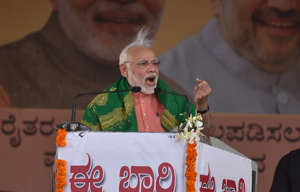 3 CANDIDATES WITH CRIMINAL RECORDS
Three candidates contesting the Karnataka Assembly elections have criminal charges against them.
Somashekar Reddy faces charges of indulging in illegal mining and trying to bribe a Judge of a special CBI court to get bail for Janardhan Reddy. He had won from the Ballari (city) constituency in the 2008 elections with a slender margin of 1,022 votes against Congress candidate Anil Lad. He did not contest the 2013 elections.
Former Karnataka minister and BJP leader Hartal Halappa was recently acquitted in a rape case. The Shivamogga 2nd JMFC court gave a clean chit to the Yeddyurappa loyalist in a 2010 sexual assault case. He had to resign from his ministerial position then
Former minister K Setty was an accused with BS Yeddyurappa in an alleged land scam. Setty, who was part of the Yeddyurappa cabinet till 2010, had to quit for his alleged involvement in land deals and a housing scam. He was later imprisoned for a few days along with Yeddyurappa.
1. Chikkodi Sadalga - Anna Saheb Jolle
2. Gokak - Ashok Pujari
3. Yemkanmardi (ST) - Maruthi Astagi
4. Ramdurg - Mahadevappa S Yadwad
5. Terdal - Siddu Savadi
6. Jamkhandi - Srikanth Kulkarni
7. Bilgi - Murugesh Nirani
8. Bagalkot - Veeranna Charantimatt
9. Hungund - Doddanagouda G Patil
10. Devar Hippargi - Somanagouda Patil (Sasnur)
11. Indi - Dayasagar Patil
12. Jevargi - Doddappagouda Patil Naribol
13. Yadgir - Venkata Reddy Mudnal
14. Gurmitkal - Saibanna Borbanda
15. Sedam - Rajkumar Patil Telkur
16. Gulbarga Uttar - Chandrakant B Patil
17. Bidar - Suryakantha Nagamarapalli
18. Bhalki - DK Siddrama
19. Maski (ST) - Basavanagouda Turavihal
20. Kanakagiri (SC) - Basavaraj Dadhesagur
21. Gangawati - Paranna Munavalli
22. Yelburga - Halappa Basappa Achar
22. Yelburga - Halappa Basappa Achar
24. Shirahatti (SC) - Ramanna Lamani
25. Gadag - Anil Menasinakai
26. Rona - Kalakappa Bandi
27. Nargund - CC Patil
28. Navalgund - Shankaragouda Patil Munenakoppa
29. Kalghatgi - Mahesh Tenginakai
30. Haliyal - Sunil Hegde
31. Bhatkal - Sunil Naik
32. Yellapur - VS Patil
33. Byadgi - Virupakshappa Ballari
34. Hadagalli (SC) - Chandra Naik
35. Hagaribommanahalli (SC) - Nemiraj Naik
36. Siruguppa (ST) - MS Somalingappa
37. Bellary (ST) - Sanna Fakirappa
38. Bellary City - G Somashekhara Reddy
39. Challakere (ST) - KT Kumaraswamy
40. Holalkere (SC) - M Chandrappa
41. Channagiri - Madalu Virupakshappa
42. Honnali - MP Renukacharya
43. Shimoga Rural (SC) - Ashok Naik
44. Tirthahalli - Araga Jnanendra
45. Sorab - Kumar Bangarappa
46. Sagar - Haratalu Halappa
47. Byndoor - B Sukumar Shetty
48. Kadur - Belli Prakash
49. Chiknayakanhalli - JC Madhuswamy
50. Tiptur - BC Nagesh
51. Turuvekere - Masale Jayaram
52. Tumkur City - GB Jyothi Ganesh
53. Koratagere (SC) - Y Huchaiah
54. Gubbi - Bettaswamy
55. Sira - BK Manjunath
56. Madhugiri - MR Hulinaikar
57. Chikkaballapur - Dr Manjunath
58. Bangarapet (SC) - BP Venkatamuniyappa
59. Kolar - Om Shaktichalapathi
60. Malur - SN Krishnaiah Setty
61. K.R. Pura - Nandiesh Reddy
62. Byatarayanapura - A Ravi
63. Mahalakshmi Layout - NL Narendrababu
64. Shivaji Nagar - Katta Subramanya Naidu
65. Shanti Nagar - Vasudeva Murthy
66. Vijay Nagar - H Ravindra
67. Doddaballapur - J Narasimha Swamy
68. Magadi - Hanumantharaju
69. Malavalli (SC) - B Somashekhar
70. Arkalgud - H Yoga Ramesh
71. Belthangady - Harish Poonja
72. Moodabidri - Umanath Kotian
73. Bantval - U Rajesh Naik
74. Puttur - Sanjeev Mattandoor
75. Piriyapatna - S Manjunath
76. Heggadadevankote (ST) - Siddaraju
77. Nanjangud (SC) - Harshavardhan
78. Narasimharaja - S Satheesh (Sandesh Swamy)
79. Hanur - Dr Preethan Nagappa
80. Kollegal (SC) - GN Nanjunda Swamy
81. Chamarajanagar - Professor Mallikarjunappa
81. Gundlupet - HS Niranjankumar
(With inputs from PTI and Nolan Pinto)
More From India Today

India Today