Blue Whale challenge: Bengal boy found dead, Doon kid stopped from killing self

Hindustan Times
3 days ago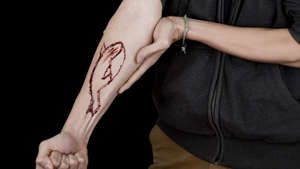 © Hindustan Times A class 10 boy in West Bengal killed himself on Saturday while a class 5 student in Dehradun was stopped from taking the extreme step by his school authorities on Friday.
According to people in the know, both played Blue Whale Challenge, the lethal online game which provokes players to do daring, self-destructive tasks for 50 days before taking the "winning" step of killing themselves.
In Bengal, Ankan Dey choked himself to death by covering his head with a plastic bag tied tightly around his neck with a nylon cord, in the bathroom of his home in Anandpur town of West Midnapore district.
"He returned from school on Saturday and sat in front of the computer. When his mother (Sampa) called him for lunch, he said he will first have bath. When he did not emerge from the bathroom for quite some time, we broke open the door and found him lying on the floor motionless (around 4pm). We rushed him to the hospital where he was declared dead," said Gopinath Dey, Ankan's father.
Ankan's friends told police that he played Blue Whale Challenge, said Anandpur police superintendent Bharati Ghosh, adding that police are now probing the angle.
In Dehradun, authorities of a popular school stopped a class 5 student from taking his life on Friday, after he confessed to playing the game.
The confession came after the school principal confronted him for his unusual behaviour: he was "standing alone" in the corridor while other kids were playing and "looked depressed" although his class teacher confirmed that he was "a very playful boy".
After initial hesitation, the boy opened up and said he was into the game. Shocked, the school authorities immediately called his parents.
"The boy was very restless, and admitted in front of his parents that he was into Blue Whale online gaming. He also told that his friends in school told him about the game," a school functionary said, requesting not to reveal the name of the student and the school.
She said his mother admitted about his strange behaviour recently, but expressed ignorance about the online games he played.
Both the boy and the parents were counselled.
This is the first time Blue Whale Challenge victims have come to light in West Bengal and Uttarakhand.
A 14-year-old Mumbai boy, who jumped off the terrace of his home on August 1, is believed to be the first Indian casualty of the game that is also responsible for a suicide bid by an Indore schoolboy and another going missing in Pune this week, besides scores of teenager deaths around the world.
The players have to film each step/task and share the proof with gaming instructors, but are not supposed to tell anyone outside.
Cyber experts and psychologists have advised parents to strictly monitor teenagers hooked on to dangerous online games such as the Blue Whale Challenge.
The game starts as a challenge for teenagers, but soon becomes an addiction as they derive a thrill by winning the initial easy levels, according to Indore-based psychologist Rekha Arya.